Trade School For Electrician - Learn About Costs And The Length Of Electrician Trade School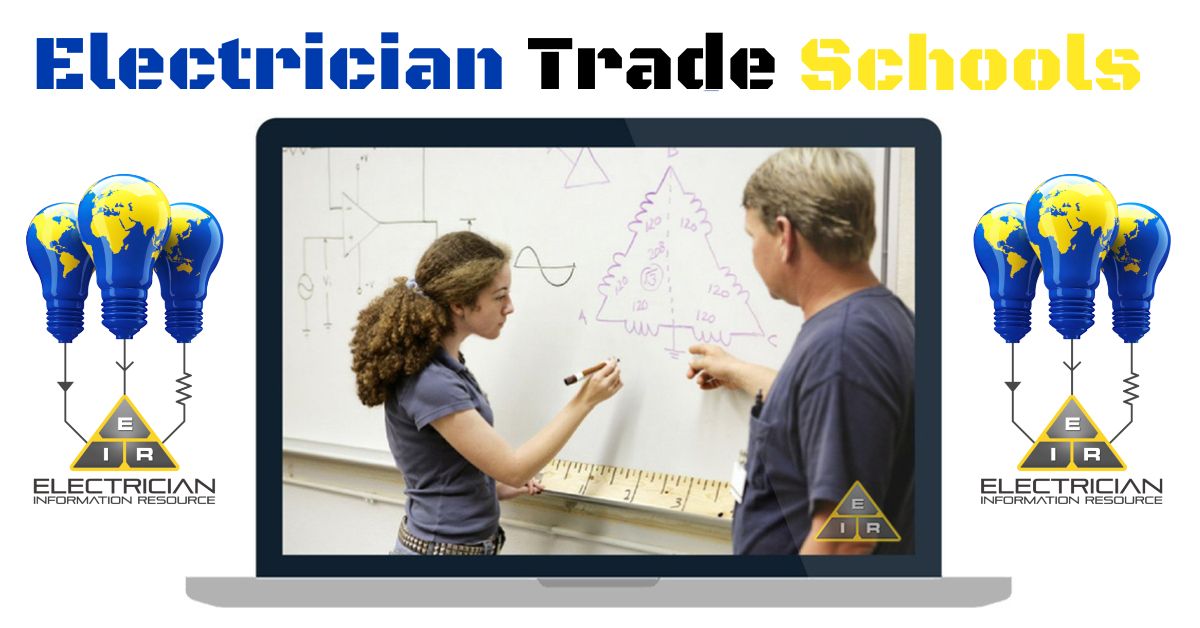 Electrician trade schools can be one of the best solutions to fast-track your career as a professional electrician. Have you ever noticed how heavily we rely on electricity and electricians? Probably not. 
Electricity is present in almost every part of our lives. We flip a switch at our home, for example, and expect the lights to come on. On the other hand, we can turn the hot water tap and expect water to come out hotter. All of those processes are possible thanks to trained electricians and their work. 
As you can see, electricians are essential for a lot of industries regardless of where they're in the world. Considering that, it's safe to say that there's a lot of work for electricians out there, and you can be one of these professionals the rest of the population depends on as long as you train for it. 
Thanks to vocational schools (or career and technical education), in some cases you can take less than half the time it takes to become an electrician than with traditional training programs. This will give you a competitive edge against others, and you could possibly even find work much faster.
In this article we cover the following:
If you're ready to learn all about electrician trade schools, keep reading! 
Electricity is Fascinating: Here's Why
There are several reasons why electricity is one of the most fascinating fields you could ever enroll in. There are too many industries where you can work! If you like entertainment, there are a plethora of jobs to take. On the other hand, if you're a sports fan, you can also find work as an electrician in that area. 
However, while electricity is captivating, keep in mind that it's also a rather dangerous industry to work in, which is why not everyone is up to the task. Only trained professionals are allowed to work with electrical equipment. Even those residential projects that may seem harmless require the hands of an expert. 
Thankfully, a local or online electrician school will provide you with all the skills and knowledge required to work in any setting you want, whether it's a residential, commercial, or industrial one. As long as you're carefully trained, you will be able to enjoy the fascinating world of electricity safely. 
Some of the things you learn in an electrical trade school include installations, connection, testing, and maintenance of some of the most sophisticated and modern electrical systems, which apply to a wide range of scenarios. Moreover, you can specialize in a particular area, such as residential work, construction areas, or heavy industry. If that isn't convincing enough, you can also become an electrical contractor, which will make you your own boss. 
Luckily for aspiring electricians, as the economy and population in the world grow, the demand for electricians will be higher. There are hundreds of different projects requiring a trained electrician, including a new house, commercial building, street, avenue, or industrial building. Even if your area doesn't have any new projects coming up, there are several old electrical systems that need updating as well. 
Overall, the need for an experienced electrician will never end. Once you're done with your training at a school to be an electrician, your skills will stay in high demand for life. 
Find An Electrician Trade School Near You
You may now be wondering how to get into an electrician school. The first step is to find the right trade school for electricians according to your area. It's vital to note that this task isn't easy, which is why this website exists. 
Generally speaking, you could go for a quick online search, which will give you the locations of some trade schools in your area. However, you must keep in mind that the electrical school you decide to go to must be accredited so that you can start working as soon as you finish the program.  
In the rare case you don't find any accredited schools nearby, you could also train online. It's always going to be much better to get training in person, but there are several options to consider in all states, so this isn't something you should worry about for now. 
Thankfully, there are several technical schools you can find either in person or online. Some online institutions also have all the accreditations that you need to work as an electrician in the future, so you're free to choose the option that best suits your needs. Keep in mind that, whether you get a diploma from a local or online institution, as long as it's accredited, it will be equally recognized. 
Now, you don't have to go through all the trouble to find an "electrician school near me." We've done all of the research so that you can have access to all the resources you need to find the best school right at your fingertips. If you're looking for information for a specific area, you can check our location-based articles so that you know the requirements for the most popular schools in these particular areas.
On the other hand, you can fill out the form below to get the information tailored to your needs much faster! Getting proper training as an electrician is the key to having a satisfying career that will take you into retirement and beyond. 

How to Enroll in an Electrician School  
As you may already think, enrolling in a school for an electrician isn't the same in every state. Each state has a set of particular guidelines you may follow before you get into one of these prestigious schools that will get you the advantage you need to become an expert electrician. 
However, there are some general guidelines you can start considering before you decide on a particular electrician trade school. First, most states require you to earn a high school diploma or its equivalent. Keep in mind this is one of the most basic requirements, and you may not be able to attend a trade school or even a vocational college without one.  
If you're still in high school, pay close attention to courses including algebra and trigonometry since those will be extra important in your work as an electrician. If you didn't already know, math is present in most electrical tasks, so you will see a lot of it while you're studying. 
Once you're done with high school, you can apply for the trade school of your preference as long as you meet the requirements. Some institutions require the following, aside from the high school diploma: 
Passing an aptitude test 
Proof of passing algebra courses 
Participating in an interview 
Passing a drug test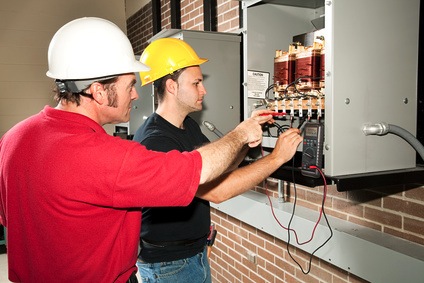 Finally, when you apply for your trade school, all that's left to do is to make the most out of your learning journey. Remember that training to be an electrician requires a lot of math and science, so try to have a strong foundation in these areas. The electrician field may have different requirements depending on the industry, but most of these industries rely on the electrician having knowledge in some of these areas: 
Basic algebra 
Mathematical arithmetic 
Reading 
Geometry 
Measurement units 
Trigonometry 
Blueprint reading 
Electricity physics 
The National Electric Code 
And more 
Still, if you want to know specifically what you will learn in an electrician school, you can check out the section below since we'll touch upon the primary subjects you will discover once you start your electrician trade school journey. 
What Do You Learn in an Electrician School? 
Generally speaking, every electrician must be able to read, interpret, and follow directions. Some other aptitudes that are required from electricians include: 
Thinking fast 
Making critical decisions 
Having a decent mathematical foundation  
Thankfully, electrician schools will help you train and develop all of these skills so that you can meet the demand of all the work needed in any project. There will be several responsibilities you must take in each job, and that knowledge will give you the upper hand.
Most people believe that they have to spend several years in an apprenticeship to find good work as electricians. However, if you go to a trade school, you will notice how you will be able to gather almost everything you need to know to become certified and potentially reduce a few years off your apprenticeship. 
Some of the things that trade schools walk you through include basic knowledge of national electrical codes, local codes, electrical theory, and general electrical codes. While trade schools aren't meant to replace apprenticeship programs, trade schools touch upon several subjects that will give you an advantage over other people once you take an apprenticeship program. 
Once you're done with your studies, you will be fully prepared to take and pass the electrician's licensing exam, which will be slightly different depending on the state you're in. Overall, your trade school training will get separated into two categories: Hands-on training and theoretical training.  
Electrician trade schools combine everything you need to know for both theoretical and hands-on work in much less time than a traditional school. Standard apprenticeship programs could take you from three to five years, which is a lot for some people.  
Now, you may be wondering what you will specifically learn in your electrician journey aside from what we've just mentioned. Here's a list of some basic things you can expect to see in your electrician training: 
Voltage, current, resistance, and power 
Wiring 
Load calculations 
Electrical motors 
Electrical controls 
Ohm's law 
We know how scary these terms may sound now, but if you're truly passionate about electricity, then you will not have any problems when you enroll in your preferred trade school. Moreover, once you start your apprenticeship, you will be able to establish relationships with people from the industry, which will increase the likelihood of finding high-paying jobs. 
Some companies that offer apprenticeship programs will hire you full-time once the program is over. If you're good enough, you may be able to find more work opportunities as well. 
Keep reading if you want to learn more about the time it will take you to finish your schooling to be an electrician. 
How Long Is Trade School?
"How long is trade school?" is a rather tricky question to answer since the answer is that it depends. Not all institutions offer the same completion requirements. Generally speaking, completing an apprenticeship will require at least 2,000 hours of on-the-job training and at least 144 hours of classroom lections. Remember, this may vary depending on the institution. 
In that sense, it would be safe to say that it will take you from four to five years to become an electrician. However, as mentioned before, this is only the case for those who go to traditional schools. 
Those who go to a trade school may expect to spend less time in their training. Unlike college, a trade school program could take less than two years. Some training programs take even less than a year to get completed. This doesn't mean that these programs are incomplete; trade schools condense all the important information and then give it to you in the most efficient way possible. 
Now, keep in mind that becoming an electrician isn't the same as becoming a journeyman electrician. Once you finish your trade school program, you may still have to apply to an apprenticeship program, which will take you a few more months, Thankfully, since you've already trained in the trade school, you may spend less time on your journey to become a journeyman electrician. 
In essence, you may look at the trade school programs as a pre-apprenticeship where you'll gain a competitive advantage over other people who went directly to a traditional training program.  
Electrician Schooling Cost 
You may be wondering how much is an electrician school. As with the previous section, the average electrician trade school cost you will pay will ultimately depend on the state and the institution. One remarkable thing about electrician schools is that they cost less money than your average college, so you may expect to save some money and invest it in other things. 
To put things in perspective, you may expect to pay from $1,000 to $11,000 to complete a trade school. However, some institutions could require you to pay up to $20,000 or more, and that doesn't include books and other resources you may need to complete your program. 
When you get to your apprenticeship, you could pay fees varying from $400 to $1,000 per year, but that depends on the company hiring you, and some employers decide to pay for these fees; it's a matter of looking for options. 
While these costs are certainly much lower than college costs, some people may still be unable to pay them. Fortunately, several institutions offer scholarship programs, grants, and many other types of financial aid, which will come in handy if you don't want to go over your budget. 
Things may also change a bit if you decide to go for online learning. Overall, electrician programs online will be much more affordable than campus-based studies since you don't have to pay for accommodation or travel expenses. You can choose the option that best suits your needs. 
In conclusion, you will have to pay for two things: the trade school fees and the apprenticeship fees. While apprenticeship fees are much lower than the trade school's, you may still expect to pay for tools, electrical code books, textbooks, licensing exam fees, and many other things. 
Once you're done with your studies, you may have to pay a yearly fee to keep your license in good standing. Moreover, if you need to take any professional exams, you may expect to pay from $30 to $75 in fees. All of these costs are better explained on location-based pages since these will vary depending on the area. 
Difference Between an Electrician Trade School and an Apprenticeship
One thing everyone should take into consideration is that going to a trade school doesn't exempt you from taking an apprenticeship program. When you want to start your studies as an electrician, you will get the option to choose either going to a trade school or going directly to an apprenticeship program. 
While both of these training methods are excellent for you, they're different. Overall, a trade school will prepare you for your apprenticeship in a much better way than going to traditional learning schools. As mentioned before, you can see a trade school as a pre-apprenticeship program. 
The main difference between these two terms is that an apprenticeship involves hands-on training, whereas trade school is mostly focused on theoretical training in a classroom. However, as mentioned before, trade schools combine theoretical training with hands-on training, and that's why these schools will give you a competitive advantage over people who didn't attend them.  
Keep in mind that finding a good apprenticeship opportunity may be extremely hard since the market for aspiring electricians is highly competitive. If you go in with zero experience, it may be harder for a company to pick you up. On the other hand, if you go to a trade school before applying for an apprenticeship, you will be more likely to find opportunities to work in the future.  
Overall, you need both things if you want to succeed as an electrician. People must consider that going to a trade school only doesn't give them any job guarantees, and on the other hand, finding an apprenticeship program with zero experience will be a daunting task.  
In essence, consider going to a trade school if your goal is to prepare for the apprenticeship in a much better way. However, remember that going to a trade school requires a larger financial commitment and that not all trade schools will provide you with everything you need to find the right apprenticeship program. 
Thankfully, our research has helped us provide you with the right trade school options depending on your needs and area. Being on this website already gives you an advantage over other aspiring electricians! 
What Is the Average Electrician Salary After a Trade School?
Now, let's get to the fun part: How much will you earn as an electrician once you finish your trade school training? You already know by reading this page that electricians often win excellent incomes since they're responsible for keeping properties stay properly and safely powered throughout the year. 
In the case of electricians, you may expect to get paid hourly. According to statistics from the Bureau of Labor Statistics, electricians in 2020 were gaining approximately $27.36 per hour, which would translate to approximately $56,900 per year for full-time jobs.   
However, keep in mind that these are only estimates, and the amount of money you make will ultimately depend on the industry you work in and the state. If you work as a residential electrician, for example, you will not make as much money as someone who works as a lineman since linemen often face harder jobs and more health risks. 
On the other hand, states with high demand for electricians will likely offer better wages for those who are applying. Some electricians could make as much as $47 per hour, depending on where they are. Some of the highest wages in the U.S. include New York, Illinois, Oregon, and more. 
If you want to know more about the average salaries in your area, feel free to check our location-based pages to get a better idea of what the salary for your state is and what industries will offer you the best money opportunities. 
Bottom Line | Find the Best Electrician Trade School for You Today! 
Now that you know everything about electrician trade schools, it's time to find something that fits your needs! The electricity world can be intimidating, but it's also one of the most rewarding industries to work in. 
If you're interested in learning more about what this world has to offer, let's start with finding the right trade schools. Overall, you can fill out the form below to get more detailed information about the best trade schools near you. On the other hand, you can read our location-based pages if you want more information on the electrical field in your state. 
Thanks for reading and we hope this article has helped you even in the smallest way!