Trade Schools In Colorado - How To Become An Electrician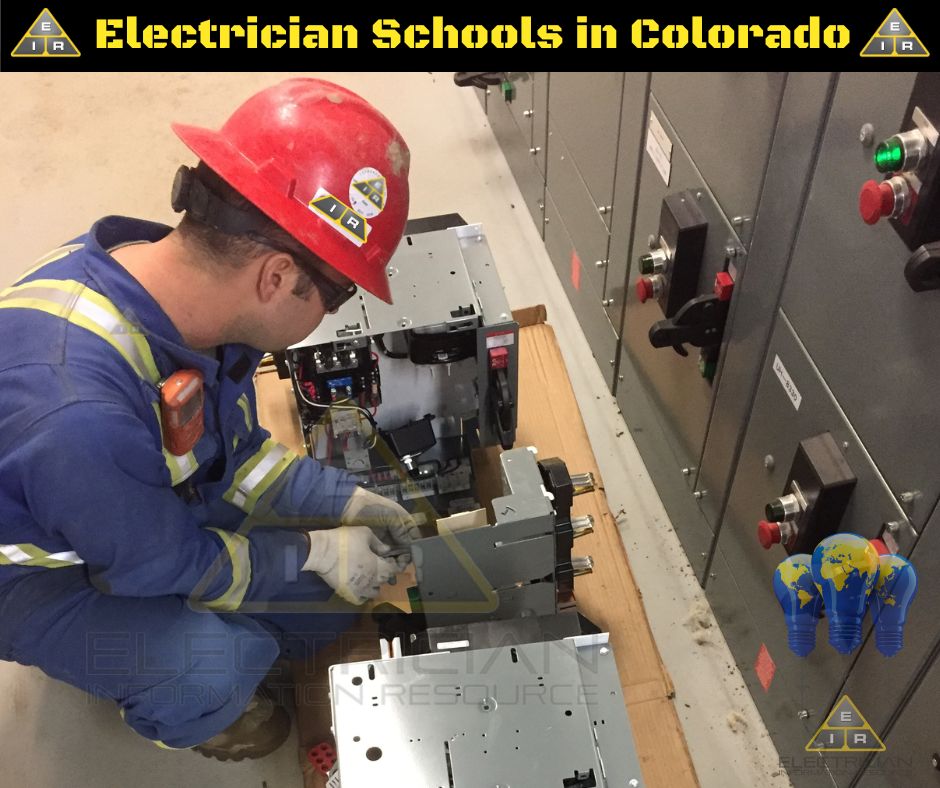 Is becoming an electrician one of your goals in life? Finding the best trade schools in Colorado might be one of the first steps on your to-do list.  
In the US, there is and has always been a demand for more electricians. This is because the country's economic infrastructure has been growing upwards since its inception. The basic supply and demand dynamics apply: the necessity for new infrastructure necessitates the hiring of qualified people to work on it.
However, craftsmen, particularly electricians, are in limited supply. Indeed, due to this scarcity, there has never been a better moment to pursue a career as an electrician. 
Why Should You Become an Electrician?
While you might want to know how to become a lineman, why should you? Electrician positions will expand by 36.7 percent by 2022, as per the Colorado Office of Labor Market Information. One of the major reasons to become an electrician by attending Colorado trade schools is because of the relative job security, valuable skill set, and pay scale the profession offers. 
If you're interested in pursuing this career and would like to get in touch with a school in your area, fill in the form below! 

Becoming an Electrician
Do you want to know how to become an electrician in Colorado? There are several steps you have to take. Furthermore, The Colorado State Electrical Board issues the electrician certification.  
Firstly, you become an apprentice, then a journeyman. After this, you'll receive your electrical certification. You can guess what happens after this, can't you?  
That's right - once you receive your qualification, you can become a hired electrical contractor.  
If you're an aspiring electrician, follow these steps: 
Get the necessary apprentice experience 
Pass your tests to become a journeyman 
Get your Master Electrician Certification 
Receive your Colorado Independent Electrical Contractor License 
Let's look at the steps to becoming an electrician in further detail. 
Become an Apprentice
To become a certified electrician, you must meet all of the aforementioned qualifications. 
In order to take your journeyman exam, you need to have the following: 
Or 
150 hours minimum workweeks of practical, paid experience along with an electrical contracting company or certified electrician.  
A few of the subjects you are taught in technical and theoretical classes include: 
National electric code and changes made 
Bonding and grounding 
Theory and calculations 
Wiring methods 
Between 10-40 hours of safety training based on OSHA's standards 
How do you do all this? The main methods to becoming an electrician include going to trade school, attending a non-union training program, or joining a JATC. 
Electrician Schools in Colorado
Attending a trade school is the best option if you want to feel like a conventional college student. 
You must complete the necessary 288 hours for your journeyman license, regardless of whether you choose a full two-year associate degree or a certification. 
If you graduate from a vocational school in Colorado with an associate degree or certification, it counts as 2,000 hours or a year of work experience. 
This implies you'll just need to work for another three years to become a journeyman. 
Various lineman schools in Colorado also offer job opportunities. 
You can also get an electrician apprenticeship in Colorado via journeyman certification programs.  
Apprenticeship Programs 
Attending electrician schools and being overseen by an electrical contractor or master electrician is also required. 
Your starting wage might be lower; however, it will rise as you gain more work experience. 
Moreover, you can also find a JATC (Joint Apprenticeship & Training Committee) in your area to help you reach your objective. 
The National Training Alliance's standards are followed by JATCs, ensuring that training is consistent across the country. 
Colorado Springs, Clifton, Denver, and Pueblo all have JATC programs. 
To participate in any of the programs, you must: 
Be 18 years old or older 
Have a photo ID 
Be able to transport yourself to the job site and classroom 
Possess the physical skills that the job requires 
Have a GED or high school diploma 
Take a general aptitude test 
Alternatively, you could join the International Brotherhood of Electrical Workers (IBEW) by joining a local branch of the union. 
Non-union apprenticeship programs assign you a contractor who will assist you throughout your classroom training. 
You must register as an apprentice before completing an apprenticeship program, which you may do online at the Colorado State Electrical Board. 
Become a Journeyman
You'll be able to install, wire, and repair electrical devices without supervision as a journeyman. 
However, you need the following to obtain your credentials: 
Complete the application form 
A minimum of two years of experience working with electrical equipment in commercial, industrial, or similar environments 
A registered apprentice for four years or four years of experience working with electrical equipment 
8,000 hours of work experience in the past four years or an equivalent mix of experience and education 
A minimum of 288 hours in the National Electric Code, skill learning in safety, and other electrical education 
70% in the Journeyman Electrician Exam
If your application is accepted, the exam vendor contacts you and lets you know when the exam is scheduled. 
The CO Journeyman Wireman Exam is required to obtain an electrician certification. 
Furthermore, the exam lasts 4.5 hours, is $75, and consists of 90 questions from which you must choose the correct answers. 
During the test, students are permitted to consult the 2014 National Electric Code. 
The questions consist of: 
Bonding and grounding – 14 questions 
General electrical knowledge – 11 questions 
Cables and conductors – Nine questions 
Services, branch circuits, and feeders – Nine questions 
Electrical calculations – Nine questions 
Motors – Six questions 
Overcurrent protection – Six questions 
Special equipment – Five questions 
Special occupancies – Five questions  
Electrical devices – five questions 
Raceways and boxes – Five questions  
Transformers – Four questions 
Photovoltaics – Two questions 
To preserve your certification, you must complete 24 Professional Development Units (PDUs) on various subjects every three years: 
Bonding and grounding 
Wiring methods 
National Electrical Code changes 
Theory and calculations  
The Department of Regulatory Agencies' website is where you can renew your license. 
Master Electrician Certification
After working as a journeyman for a few years, you can get your master electrician license. 
You can also be licensed to operate on private properties as a master electrician. 
Furthermore, you can use this license to plan, layout, and supervise the repair and installation of electrical devices. 
The Colorado Independent Electrical Contractor License 
You must register with the state as a residential or commercial electrical contractor before working with the public. 
You can use this certification to hire master electricians and develop your own electrical firm. 
Additionally, you can organize, supervise, repair, install, and maintain electrical devices as a contractor.
Local authorities may have extra contractor requirements; thus, be sure to examine the regulations for your intended zones of activity.
You can renew your license on the Department of Regulatory Agencies' website.
The Colorado State Electrical Board issues the electrician certification. 
Where Can You Thrive as an Electrician in Colorado? 
From manufacturing to agriculture, what's the best industry to get a job as an electrician in Colorado? Where can you thrive? What offers the most opportunity? One thing is for sure - this job is in high demand, so you can certainly find the perfect fit for you.  
Let's take a closer look at the booming industries where you could thrive as an electrician in Colorado: 
Manufacturing 
Because the majority of manufactured items are exported, manufacturing is the most important driver of Colorado's economy. In fact, start-up companies dominate this industry.  
Why is this useful to you as an aspiring electrician? Start-ups need electricians to set-up electrical machinery and equipment and to ensure that manufacturing processes work smoothly.  
The use of modern manufacturing technology is one of the reasons why Colorado manufacturing companies are functioning so well. Vestas (which manufactures turbines and wind blades) and Technologies Corp and Ball Aerospace are two firms in this industry. As you can see, these companies rely heavily on machinery and equipment. Hence, electricians are always needed for installation, maintenance, and repairs in manufacturing plants. 
Mining 
The mining industry in Colorado is mostly focused on oil and gas extraction. This industry witnessed crude oil output double and natural gas production increase by 51% between 2005 and 2015. Therefore, it's evident that this industry will continue to grow and provide job opportunities. Furthermore, coal energy provides half of Colorado's electricity. Colorado also mines other precious stones and metals in addition to gas and oil.  
Who works with all the intense mining equipment for the extraction of all these elements? Electricians, that's right.  
Another element commonly mined is limestone. This is a critical component in the construction of long-lasting buildings, bridges, and pedestrian walkways. Electricians play a major role when it comes to the construction of buildings and other structures. 
Agriculture 
Colorado's agricultural sector is another substantial contributor to the state's economy. Agricultural land accounts for around half of Colorado's 66 million acres. The farmers possess enormous ranches and farms that are primarily used for livestock production.  
If there's one thing we know about agriculture, is that it is strongly linked to machinery and equipment. Working as an electrician in the agricultural sector means working with equipment, plant, and machinery. This is also heavily connected to the fresh foods industry, meaning there's even more potential for growth.   
Service Sector 
The services sector is also one of Colorado's key industries, contributing significantly to the state's GDP. Real estate, medical services, finance, high-tech services, university education services, wholesale and retail commerce, engineering, healthcare, tourism, legal services, and software development are among the services provided and paid for.   
All of these industries offer commercial job opportunities when it comes to electrical needs. Therefore, it's clear that you will not be limited in any way as an aspiring electrician in Colorado. In fact, sports medicine, aerospace hospitality, and other industries are expecting growth in the upcoming years, so there are bound to be plenty of opportunities available.   
Population Growth Statistics in Colorado 
What does population growth have to do with aspiring electricians? Increasing population trends often mean more job opportunities. Colorado has seen steady growth in population over recent in years. In 2020, there were approximately 5.78 million people in the state. Furthermore, in 2021, this number grew to around 5.81 million people. A few months into the current year, and stats are at approximately 5.96 million individuals. 
Hence, the rising numbers mean that you don't have to worry about rushing out of trade school to find a job. There'll be plenty of employment options for your once you've completed your training. 
Major Projects to Consider 
Are you still in trade school? Not to worry; the following exciting projects are so major that you could possibly find job opportunities even if it's in a year or two: 
River Mile 
The National Western Campus 
Loretto Heights Campus 
Colorado Convention Center 
Populus 
Emily Griffith Hotel 
Denver Zoo 
16th Street Mall 
The Flyway 
Greyhound Station 
What Is the Salary of an Electrician in Colorado?
An electrician can expect to earn $47,807 a year on average. 
Take note that the national average wage for this profession is $47,951 per year. 
The finest electricians in Colorado earn $54,476 per year, compared to $54,640 nationally. 
Are You Ready to Join a Trade School in Colorado? 
Our culture teaches us that obtaining an academic degree from a liberal arts college is the only way to get work and earn decent pay. This is incorrect. In comparison to a typical university, there are ways to become an electrician in less time and for less money. These possibilities are right here in Colorado. Trade schools are certainly the most popular option.  
Are you ready to take the next step in your electrician journey? There couldn't be a better time with all the potential for growth in the profession.   
Fill in the form below to get into the best electrician trade schools in Colorado today! This will give you all the information you need regarding accurate costs, location, textbook requirements, and transferability.