Hello and welcome to your free online Electrician Information Resource!
Getting Started
I recommend you begin by exploring the become an electrician section.
This will give you some idea of the kind of electrician jobs and career choices there are available, and what kind of commitment you'll be making when you start out. Knowing the electrician career options, electrician salary ranges and the steps required before hand will educate you on the path that best suites you.
There's no escaping the need for obtaining and understanding electrical theory as it is crucial to maintaining a career as an electrician. You can explore all the different theoretical topics you'll need to learn as an electrician in our electrical theory section. Some trainee electricians begin by enrolling at an electrician school to get a head-start on all the training they'll need to succeed and obtain the electrician job they're after.
Safety is of paramount importance to all electricians. Going home each day the same way you left in the morning is the number one priority. You can get more details in the electrician safety section. There you will learn about the electrical safety equipment, safety clothing and protocols you'll be expected to wear and apply on the job as an electrician.
You're not a sparky unless you're carrying an electrical tool kit. As an apprentice you will start out with some basic tools. After you start to progress through your electrical apprenticeship you'll need to acquire more tools. So read more about what electrician tools you'll need for the job.
My name is Dusten, and for many years I've worked in the residential, commercial, agriculture and the oil and gas industry as an electrician. Most of my career has been doing jobs in Alberta, Canada, but I've been to the United States and across the planet for some specialty work.
I wanted to share my passion for this fascinating career as well to assist people interested in how to become an electrician, to guide them to a suitable career path, and help them navigate along that path once chosen.
In my time in the field, I've seen many unique situations and have heard many stories, tips and warnings during my electrician training. As this site grows, so will your knowledge and understanding of this exciting career choice.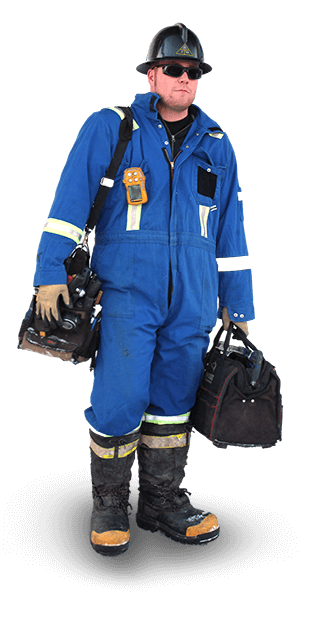 My Electrician Information Guarantee
All my advice comes BS-free. I tell it how it is, so if you want to know exactly what it's like to be an electrician, you've come to the right place.
I'll also include electrician information of residential electrician work, so if the idea of big industry doesn't appeal, you can still take away important tips from the site.

The life of an industrial "sparky" is a hard one, but very rewarding. Welcome to your future.
Enjoy!
Dusten