Electrician Schools in California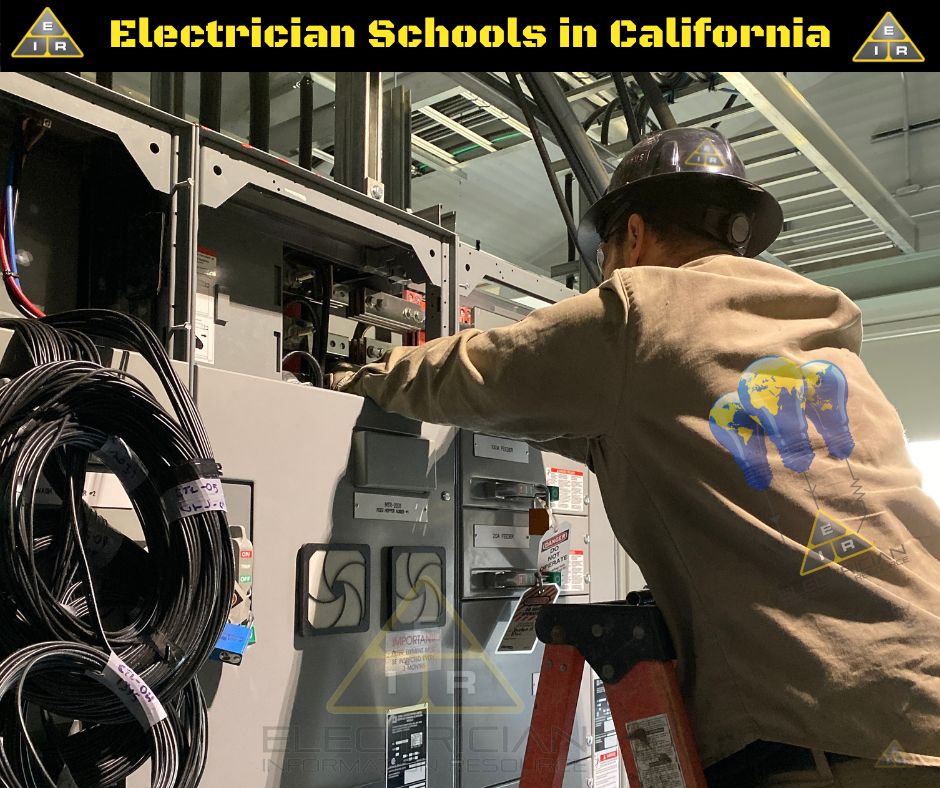 Choosing a new career for your life can be one of the most exciting experiences you can have! However, when it comes to those people looking for a job as an electrician, they get confused since there are dozens of different areas, industries, and properties they can work on! 
 
Sometimes, going to college isn't a viable option for the student since it involves high costs. Currently, California is considered one of the most expensive states to study and live in among other US states, which decreases the opportunities to pay for college even more. 
Thankfully, electrician schools in California have proven to be a decent alternative for those who want to save money and time. California electrical training is often seen as one of the best in the entire country, so it would be great if you make the most of it through California trade schools. 
The Beauty of Electrician Trade Schools in California 
However, what makes an electrician school in California so special? There are dozens of different options to consider in this state. It may be a bit difficult for you to determine what would make a particular school better than the other, and that's where we come in. 
If you're looking to start your apprenticeship or certification program as an electrician, you've come to the right place. In California, an electrician is considered to be among the highest-paid trades, so you can expect to find something that works for you. 
Today, we'll take a look at trade schools in California, what makes them a viable option for aspiring electricians, and what the major industries in California are for those looking for work. It doesn't matter if you're someone starting your journey as an electrician or an electrician looking for some extra experience; trade schools for electricians in California have everything you need to get started. 
How to Become an Electrician Apprentice in California
First, we have to consider the difference between an apprenticeship program and an electrician trainee. Sometimes, people use both terms to refer to the same thing, but the process for both is a bit different. 
Overall, an apprentice program gets offered by professional organizations or unions. These programs involve written exams, orientations, interviews, and more. On the other hand, an electrician trainee must go for registration with the state of California to get an Electrician Trainee Card, which allows the person to attend California electrician certification classes while getting on-the-job experience under supervision. 
Some of the general requirements from the state include: 
At least 18 years of age and a high school diploma (or the equivalent) 
Physical ability to perform the job 
A valid California Driver's License 
Completion of a full year of high school algebra or one semester of college algebra 
Summarizing everything, to begin your journey as an apprentice, you must: 
Find approved trade schools in California for an electrician. 
Register as an Electrician Trainee with the state, get your card, and start working under supervision. 
Once you're qualified, you'll be required to take the State's Electrical Certification Exam. We'll get to the requirements to become a certified electrician in California below. 
How to Become a Certified Electrician in California 
Becoming an electrician in California has a few particular requirements that you must be aware of. 
First, you must complete at least 720 hours of electrician education from approved tech schools in California. The trade school must combine classroom instruction with hands-on training under supervision. 
Moreover, you need approximately 8,000 hours (which translates to roughly four years) of on-the-job experience. Thankfully, some California vocational schools allow you to get on-the-job experience while you study so that you save some time. 
Some of the areas approved for you to gain experience include journeymen, foremen, supervising employees, contractors, or owner builders. As mentioned in the previous section, once you complete all of the requirements to become an electrician, you must take the state's certification exam. These tests include a law and business exam, as well as an electrical contractor exam. 
 
Finally, if you pass every test, you'll receive your contractor's license as an electrician, which will allow you to work in all the exciting industries that California has to offer. 
Are Trade Schools Better Than College?
Not necessarily; it primarily depends on what you want to study and work on. Even the best electrical engineering schools in California won't be worth it if you don't want to work in the industry that the school is training you to work in. 
To put it simply, a trade school will cost you less money than a college degree. Moreover, since a trade school program tends to be shorter too, you may spend fewer resources on your studies. However, this doesn't mean that one study program is better than the other. 
One primary debate factor among those who prefer one study program over the other is salaries. Typically, those with a college degree will have higher earning possibilities than those who come from trade schools in California. However, this isn't always the case. 
As long as you get the right training and get to the right industry, you'll likely make a considerable amount of money. On this page, we'll outline all of the industries where you can make more money as an electrician in California. 
Today, whether you work in residential, commercial, or industrial settings, there's a plethora of options to choose from. You may also earn different amounts of money depending on whether you're studying to become an electrician or a lineman. 
Either way, there's no shortage of demand for electricians in California; in fact, it's the other way around. If you're looking to become an electrician through trade schools, you have a long journey ahead, but don't worry; we promise the result will be worth it. 
Keep reading if you want to learn more about California's major industries! 
Why Become an Electrician in California | Areas Where You Can Thrive
California has a plethora of industries where you can make the most out of your abilities as an electrician. Currently, the fastest-growing industries for aspiring electricians include healthcare, technology, hospitality, construction, and agriculture. 
While all of those are excellent options for an electrician, there are more. Here's a wider overview of all the industries where you can start making more money as an electrician once you complete your studies. 
Major Industries in California 
Tourism 
It would be impossible for us to list all of the tourism sites currently in California since there are so many; that's excellent news! It doesn't take more than a few clicks to discover that California currently houses some of the most incredible tourism sites, including Beverly Hills, Hollywood, Disneyland, Lake Tahoe, Yosemite, Venice Beach, and more. 
Taking that into consideration, it's safe to assume that there's a high demand for electricians in each of those areas, especially those with extremely high traffic like Disneyland. All of the facilities must work in perfect condition 24/7, and the slightest mistake could be devastating for the company. 
In that sense, the tourism sector is currently booming and boosting California's economy to a high degree. If you're looking for work as an electrician, you're likely to find high-paying work on several of these popular sites. 
Agriculture 
One of the major agricultural regions in the country is the Central Valley, and it's located in California. Thanks to this agricultural region, Golden State can yield more crops and other goods than any other state in the country.  
The Central Valley is known for helping produce grapes, lettuce, oranges, asparagus, rice, shelled almonds, milk, tomatoes, and many more primary food items. While you may think there may not be much to work for an electrician in this area, you'll be surprised to see how much machinery is needed to produce all the amounts of food and export them to the rest of the country.  
As with tourism, agriculture in California is a primary factor in boosting its economy, so you'll likely find high-paying work as either a lineman or an electrician. 
Technology 
Did you know that the popular Silicon Valley is located in the northern part of California? It currently employs over 250,000 people, and it's considered one of the largest high-tech companies in the entire world! 
Approximately 40 of the "Fortune 1000" corporations are currently headquartered in Silicon Valley, making it a perfect spot for those looking for jobs as an electrician or linemen. The most remarkable thing about finding work in Silicon Valley is that there are dozens of different companies you can apply to. 
While getting into the Silicon Valley sector is hard enough, with the right experience, you'll undoubtedly find the job of your dreams here. With the increasing demand for new technological pieces and modern science, it's unlikely that Silicon Valley will have "too many" electricians at some point. 
Manufacturing
Following up with the "technology" sector, it's vital to note that most of the manufacturing industries in California need a lot of high-tech to work correctly. According to World Atlas, the Manufacturing sector employs at least 9.4% of the entire Californian workforce.  
Some of these areas in manufacturing include electronic computers, software development, electronics, and more. Important companies in this sector include Western Digital. As with other areas in the technology sector, the manufacturing sector also has a lot of opportunities to offer aspiring electricians. 
Education 
Some of the most important universities, colleges, and research studies are in California. In fact, 112 of the most important community colleges in the country are currently in California, making it a huge space for students and researchers. Some popular institutions include the University of California, UCLA, and Stanford. 
As you may have guessed by now, all of these institutions are powered up by the latest technological equipment, and they have a fairly complex electrical infrastructure that allows them to work as intended. Those institutions need a bit more maintenance than regular institutions, so it's likely that you'll find good job opportunities in this sector. 
When you start your studies for becoming an electrician, you'll quickly notice just how advanced the equipment there is. If you're able to find work in this sector, you'll ensure financial coverage for many things in your life. 
Pro Sports 
If you're not a sports fan, you may not know that about 20 professional sports teams in the US are from California. In that sense, California is housing the highest number of professional sports teams in the whole country. Some of these sports teams include Los Angeles Dodgers, Los Angeles Lakers, Golden State Warriors, San Jose Sharks, and so on. 
Currently, there are several electrical systems (HVAC systems for example) needed to keep stadiums, training rooms, and other equipment in their best shape. Those teams in California are known for having the best equipment and training grounds they can get, preparing them for any matches. 
As with any other industry on this page, these appliances and wiring systems need thorough check-ups to ensure that they're performing correctly. The slightest mistake in these could cause a big problem in a match, which is why it's so important to work on these systems every day. 
Whether you're a sports fan or not, there's a significant degree of job opportunities for aspiring electricians, so you don't have to worry. 
Airports/Seaports 
Following up with interesting facts about California, we have that Los Angeles International Airport is currently the sixth busiest airport in the entire world. Not only does the airport receive huge traffic from travelers, but it also receives significant amounts of cargo freight, which are unloaded at some of the major seaports in the area. 
Airports and seaports need to have top-notch electrical wiring systems to ensure that there isn't any failure at any point of the day. The demand for professional electricians is likely to keep increasing over the following years, making this a perfect opportunity for you to start looking for the best electrician schools in California. 
Entertainment (Film Industry) 
California has Hollywood and Disneyland, and that should be enough to convince you how much the film industry in California is providing to the US economy. A lot of the state's funding goes to the production of Hollywood movies, and according to World Atlas, this sector has created over 2.4 million job opportunities. 
Population Growth Statistics for California 2022 
Surprisingly for aspiring electricians, California is currently the United States' most populous state, with Texas and Florida being second and third place, respectively.  
According to estimates in July 2021, the state had over 39 million residents. In 2022, the population is expected to increase to 39.7 million or higher. Moreover, the Public Policy Institute of California states that the population of the state is expected to reach 45 million people by 2050, which is an outstanding number. 
California's population has grown by 5.8% over the past decade according to census counts. While the rate of growth is a bit slower than the rest of the nation's, California is still experiencing a positive growth rate, which is excellent news for aspiring electricians. 
The more people, the better for those who are looking for work. This means that the residential and commercial markets will, undoubtedly, have a higher demand for electricians. If you prepare accordingly, you'll likely find work in the field that suits your needs. 
Major Building Projects for California 
Considering California is the most populous state in the U.S., and it's often considered a trendsetter in several different areas, including entertainment, sports, and more. Due to that reason, there are several projects currently ongoing in California, which are worth checking out. 
Some of these projects include: 
California High-Speed Rain Bullet Train 
Richards Boulevard Office Complex 
Los Angeles International Airport Landside Access Modernization Program 
"The Grand" Mixed-Use Development 
Hesperia Housing Development 
As you may have guessed by now, all of these projects need proper functioning of electrical systems to get completed. There are dozens of areas where electricians and linemen are ready, so if you're looking for work in California, there are likely several areas where you can choose. 
Moreover, keep in mind that there will be more projects coming up over the next few years. If you start your training as an electrician today, you'll likely become part of some fantastic projects in the future. 
What Is the Salary for an Electrician in California? 
Depending on your field of work, you can expect to earn $30.72 per hour as an electrician in California. Keep in mind that some job fields, such as the "Journeyperson Electrician," may pay a bit higher than other fields. 
Those average salaries don't include overtime. According to several statistics, the economy for electricians has grown positively over the past few years, so you can expect the salary to cover your needs, especially if you work in a high-paying area. 
Sign Up for Electrician Schools in California Today!
We want to help you make the most out of your journey as an electrician. When looking at trade schools, some of the factors you must consider include:  
Schooling costs 
Textbook requirements 
Transferability requirements 
Choosing the right school for you 
Happen to live in one of these areas?
We provide further details in each article listed above.
If you want to start today, you can fill out the contact form below and get all the information you need to become an expert electrician. We'll be more than happy to help you!