Trade Schools in Illinois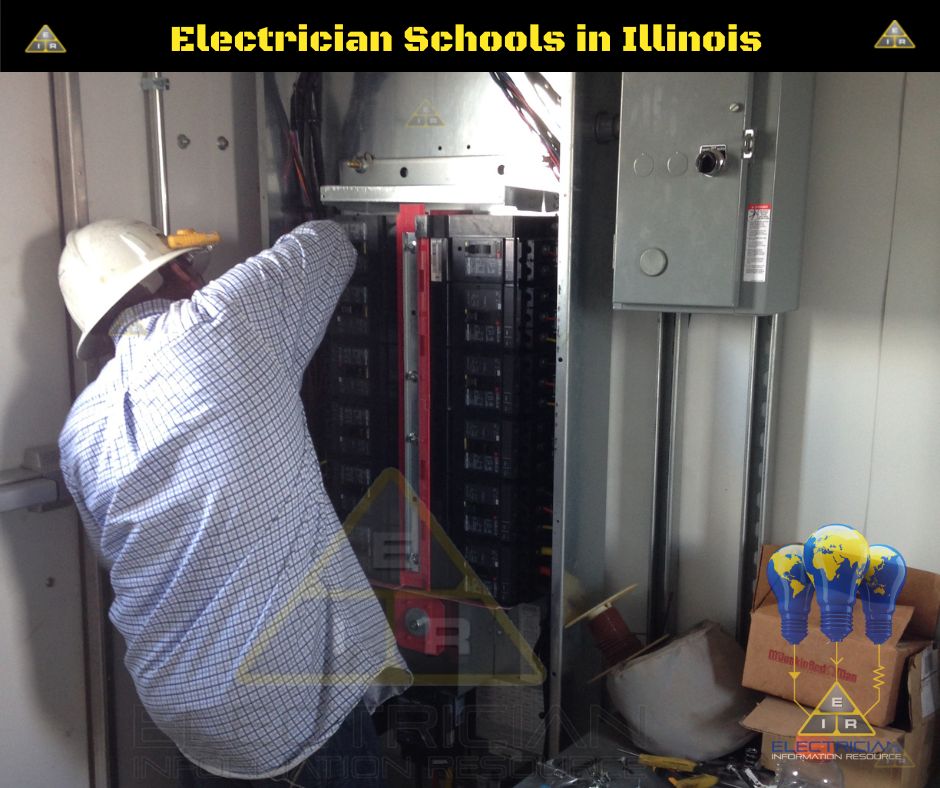 Did you know there are more than 25,000 licensed electricians in Illinois? Does this mean that there aren't many opportunities available for aspiring electricians? Most certainly not! In fact, the Illinois Department of Employment Security believes that this number will increase by a further 15% by 2024.  
Hence, it's evident that if you're interested in this constantly growing field, now is the time to kickstart your journey by looking for the best trade schools in Illinois.  
Why Should You Go to Vocational School? 
You can acquire a diploma or associate's degree in the electrician profession if you enroll in a trade school. 
To complete the experience criteria, you can get hired by one of the electrical companies in your neighborhood after completing the program. 
The Illinois trade schools teach you everything you need to know about becoming a journeyman – whether you're interested in the residential or commercial side of things, these institutions will equip you properly.  
Apart from the market growth, being an electrician offers advancement opportunities and job security – not to mention the exceptional benefits. Is this the path you want to take? Fill in the form below to join the best electrician schools in Illinois.
A few of the things you can expect to learn include: 
Electrical wiring systems, fuses, and motors 
Symbols 
Transformers 
HVAC system management 
Technical and theoretical content  
And much more 
Some technical schools in Illinois can assist in finding entry-level employment. 
How to Become an Electrician in Illinois 
Are you looking for an electrician or lineman apprenticeship in Illinois? You need to work on getting your license. Electrician licenses are issued at the county or city level in Illinois because there's no statewide regulatory board for the electrical sector. This doesn't imply that you must work just in the county or city where you obtained your initial certificate or license. 
Irrespective of where you got your Illinois electrician license, you have to go through the same basic steps: start as an apprentice, receive your first certificate at the local level, and then obtain an electrical contractor's license. 
To understand how to become an electrician in Illinois, follow these three steps: 
Get practical experience and complete your lab and classroom-based technical training 
Pass the initial certification exam 
Become a licensed, independent electrical contractor 
Once you go to trade school, it's often easier to find an Illinois electrician apprenticeship. 
Industries That Offer the Most Opportunity for Aspiring Electricians in Illinois 
One of the major benefits of this profession is that there's almost always a high demand for electricians. However, we understand that as an aspiring electrician you want to ensure that your future is secure. You can find work in residential and commercial projects, depending on the career path you want to take. If you're specifically looking for areas with major projects or excellent earning and growth potential, you might want to consider the following industries once you've completed electrician trade school in Illinois: 
Advanced Manufacturing
With substantial clusters in sophisticated machinery, materials, metal parts fabrication, pharmaceuticals, and aerospace, Illinois has a strong industrial history and has developed into a technology-driven and advanced economy. These are all fields that electricians can thrive in due to the expertise required in wiring and operating plants, machinery, and equipment. 
Professionals, skilled electricians, artisans, or machine operators account for about half of the state's 5.6 million employees. A few prominent firms include Caterpillar, Navistar, Boeing, and John Deere. 
Business Services
Illinois is a global hub of business and financial services, including the headquarters of the Chicago Board Options Exchange and international exchanges CME Group, as well as large multinational firms. Financial services employ around 367,000 people, while professional and business services employ another 926,000.
You might be wondering what the business sector has to do with the job of an electrician. What about the technology they use or the lighting and wiring in those high-rise buildings? Businesses in this field almost always require electricians for maintenance needs, developments, or upgrades. 
Education
Illinois attracts the sharpest brains and has greater educational performance than the national average. In fact, would you believe it if you heard that Illinois has some of the best engineering tech schools in the country? Looks like you're in good hands after all.
Energy
Illinois focuses a great deal on clean energy technologies, which includes becoming a major player in advanced battery storage and technology. However, the majority of Illinois' coal is exported to other regions inside and outside the US, and the state is the Midwest's largest petroleum refiner. 
With large wind farms in Mendota Hills, EcoGrove, Twin Groves, and Rail Splitter, wind energy is a developing business. 
The energy sector is known for its large operation plants that require a great deal of electrical work. You could find an opportunity at one of these plants, whether it involves building solar panels or assisting with the construction of wind turbines. 
Agriculture
With 75,000 farms covering roughly 76% of the state's total geographical area, Illinois supplies the globe with commodities such as corn, soybeans, beef, pork, and dairy goods. In addition to soybean ethanol-based biodiesel, the state's agriculture makes it a frontrunner in biofuels.  
A total of more than $20 billion in agricultural output is produced every year, with corn accounting for roughly 40% of that total. Furthermore, Cadbury Adams, Archer Daniels Midland, General Mills, Del Monte, Sara Lee, and Heinz Kraft are among the world's most popular food companies in Illinois. 
When looking at major companies like these, there are plenty of opportunities for aspiring electricians. The farming, processing, and food manufacturing market is a machine-intensive business. Therefore, someone needs to maintain, repair, and create the processing lines and equipment. 
Potential Major Building Projects 
Are you worried that by the time you're done with your electrician programs there won't be many opportunities for you? Don't panic! Here are a few current and upcoming projects that you could take a look at if you're looking for a job after vocational school: 
Lincoln Yards 
The River District 
One Central 
Burnham Lakefront 
Union Station 
Farnsworth Avenue Improvements 
Downer Place Bridges 
Riverline and Southbank 
The 78 
Lakeshore East 
South Bridge 
Population Growth Statistics in Illinois
With a population of approximately 12.8 million people, Illinois is the fifth most populous state in the United States, accounting for 3.9 percent of the country's total population. It's also behind California, the 12th most densely inhabited state in the United States. Springfield is the state's capital, while Chicago, with a population of about 2.7 million, is the state's most populous city.  
According to statistics, the population of Illinois will reach 12.785 million by July 1, 2022. This estimate is based on a -0.05 percent average growth rate over the last 10 years since 2011.  
While the population might be decreasing, this is by quite an insignificant percentage. This means that there will still be plenty of residential and commercial job opportunities for you by the time you're done with trade school – based on the assumption that you're not planning on taking 20 years to get your certification. Now, this might have you wondering, "How long is electrician school?" Don't worry - it's only four.  
How Much Do Electricians Earn in Illinois? 
Illinois electricians earn an average of $49,404 per year, with the highest-paid earning roughly $56,296 per year. 
On a national basis, these earnings are slightly lower, with the average being $47,951 per year and the maximum being $54,640 per year. 
Join a Trade School in Illinois Today! 
Have you ever wondered how to become a lineman in Illinois? The first step is to join one of the best trade schools. You can't go wrong with this decision considering the expected growth of 15% in the next few years. Additionally, all the booming projects in the major industries will ensure that you can find the ideal job for you. There are also some great options in Chicago as well.
Are you ready to learn more? Fill out the registration form below for information on: 
Textbook requirements 
School locations and transportation 
Schooling costs 
School transferability