Trade Schools in Arkansas – Electrical License Information And More!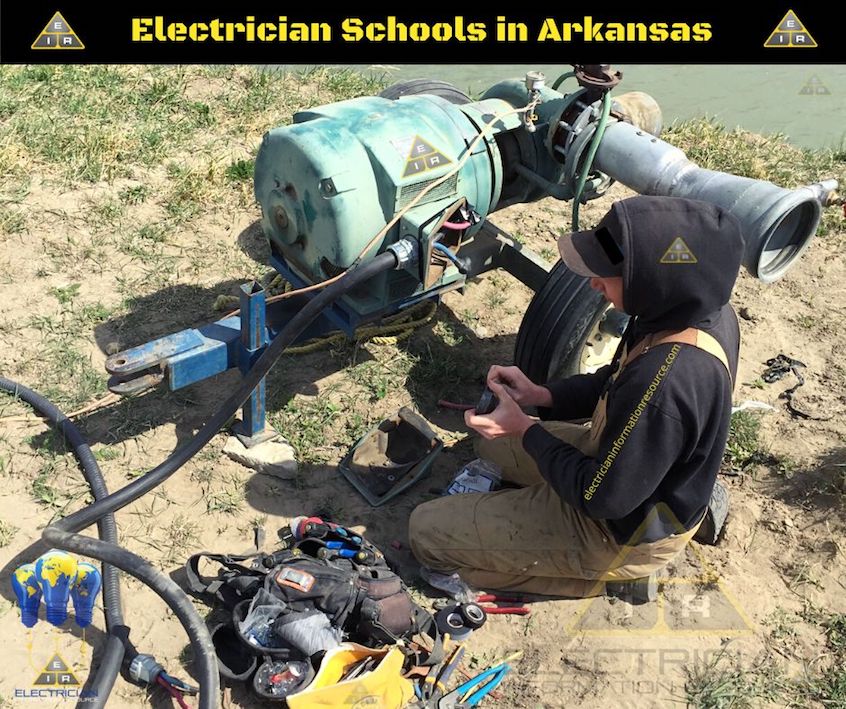 Have you ever called an electrician to your home and thought you could do that yourself? Many people dream of having this career and feel that it's out of their grasp. That's far from the truth! 
Various trade schools in Arkansas can help you become an electrician. That gives you the education you need to be a top asset to your employer. Likewise, employers often find that trade school training gives their employees the basic skills necessary to begin while they learn the ropes and work toward their electrical licenses.
How a Trade School Works
Arkansas trade schools are sometimes called technical or vocational schools. They're available to teach people about a specific trade, such as electrical work. Typically, you need a high school diploma, but some options let you earn your GED while you attend. 
How to Become an Electrician in Arkansas
Contractors who want to perform electrical work require an Arkansas electrical license unless they've completed 16,000 hours (eight years) of electrical training and work experience. 
They don't need a license to become an apprentice, but they need to fill out the application for the Arkansas Board of Electrical Examiners to register for an electrician apprenticeship and pay a fee. Before qualifying, you should prove that you're enrolled in an electrical technician school. These applications are renewed every year. 
Here are the steps to take: 
Be 18 years old with a GED or high school diploma 
Have a valid driver's license 
Complete a training program from one of many electrician schools in Arkansas 
Pass a course in algebra 
Pass an aptitude and drug test 
Apply for, take, and pass the right electrical licensing exam 
Get your license from the state board 
Whether you want to get into an apprenticeship program or not, you must complete your vocational training first. Then, you can work with journeyman electricians to learn the ropes and gain experience. 
Are you ready to start a new career? Fill out the form below to get information about electrician training in Arkansas! 

What's an Arkansas Electrician Apprenticeship? 
Apprenticeship programs in Arkansas help you learn the skills you need to become an electrician. You work alongside a licensed master or journeyman electrician to gain on-the-job skills before getting your license. 
How to Become a Lineman in Arkansas 
A lineman often works for utility companies. They're responsible for maintaining and creating lines that carry power to every building in the area. This usually means scaling poles to fix overhead lines, inspecting lines, and repairing or replacing them as necessary. 
Lineman schools in Arkansas help you prepare for this interesting and exciting career. The courses are often 10 weeks long, but they can go up to six months in length. 
Should you become a lineman? Many companies seek out quality and qualified workers, so you could work at Southwestern Electric Power Company, Bird Electric Co., or the Electric Cooperatives of Arkansas. 
What's a Lineman Apprenticeship?
Once you complete your training, you should become a lineman apprentice so that you can work toward being a journeyman lineman at some point. 
You help your company manage, restore, and construct lines (distribution, transmission, or electricity) underground and overhead. Typically, you work with aerial booms, cabling machines, lifts, and more. 
Overall, the apprenticeship gives you on-the-job training that you use for the rest of your career. Most people consider other educational options to grow and expand on what they know, but this is often the first step. You're not licensed yet and can't be until you have enough work hours under your belt. This is the easiest way to get there. 
Reasons to Become an Electrician
Most people think that the internet is the most important thing in the world, but what could it do without electricity? You couldn't easily cook, clean yourself, store food, be comfortable, or watch television.  
An electrician can bring people light, keep their appliances running, add phone/cable lines, and so much more. Here are just a few of the reasons to become one in Arkansas: 
Many Career Choices – Most people don't realize there are various career paths for an electrician. You can be an outside lineman, install traffic signals, update electrical systems, troubleshoot issues, repair and install transformers, and so much more. Work in the commercial or residential sector and help others bring light to their projects. 
Make Money – The national salary average for an electrician is about $56,000 annually. Electricians in Arkansas can expect to make between $30,000 and $60,000 per year. This is higher than many other trades. 
Start Training Now – You don't have to meet multiple prerequisites to become an electrician. If you've finished high school, you can use trade schools to understand the basics and enroll in an apprenticeship to get on-the-job training. This means you earn while you learn! 
Always in Demand – The electrical industry is experiencing a skills shortage that doesn't seem like it might end soon. Many professionals are nearing retirement, so companies are looking for new people with the right skill set. There will always be electricians because the industry evolves with new technologies and systems all the time. 
Challenging and Rewarding – Electricians often find their careers to be rewarding. You require an understanding of various skills, must learn how to read diagrams, and focus on safety. As an electrician, you take on many projects that might make you think harder than normal or find out-of-the-box ideas to get things done. 
Hands-On – Many people like to get in there and start working. They don't want to be tied to a classroom all the time. Trade schools are well-known for being quick to finish and providing you with basic skills. That means more of your time is spent in the field learning and growing. 
Excellent for Veterans – Serving your country means you've got highly technical skills that you don't want to waste. Most apprenticeship programs and employers prefer military veterans because they've already shown they're hard-working and ready for anything. 
Should you become an electrician? If these statements sound like you, the answer is yes: 
You like working with your hands. 
You enjoy improving and building things. 
You prefer to go from the classroom to a job site quickly. 
You don't want to go to college and prefer to get to work very soon. 
You want a rewarding career, an exciting job, and a comfortable wage. 
Where Can You Thrive as an Electrician in Arkansas?
Most people have lived in Arkansas all their lives and never realized how many major industries there are in the state. These include: 
Food and Beverage 
The Arkansas food and beverage industry includes top brands like:  
Butterball 
Walmart 
Gerber 
Tyson 
Frito Lay 
Planters 
Post 
ConAgra Foods 
Riceland 
Boar's Head 
Nestle 
Electricians are often needed to remove electrical systems and reinstall them, documenting the entire process correctly, testing and verifying equipment, and much more. 
Aerospace and Defense
There are plenty of top aerospace companies in Arkansas, too. These include: 
TruTrak 
BEI Precision 
Lockheed Martin 
Pratt & Whitney Dependable Engines 
Triumph Group Aerospace Structures 
Envoy 
Raytheon 
As an electrician in one of these companies, you might design and build the electrical equipment for helicopters, aircraft, and spacecraft. Military-grade systems and vehicles might come in that need to be ready for battle, as well. There's so much you can do in this sector. 
Timber and Forest Products
Did you know that Arkansas has about 19 million acres of forestland that covers 56 percent of the state? Most of it is privately owned, and those companies need electricians for many things. The lumber manufacturing industry now uses high-tech equipment and requires people to repair, install, maintain, and modify them for the facility. 
Metals
The metals industry in Arkansas makes up about 13.6 percent of all manufacturing processes. It's found in the northeast area of the state, and Mississippi County is the second-largest steel manufacturer in the nation. 
You could work for companies like: 
Tenaris 
AtlasTube 
Gerdau 
USS 
BRS (Big River Steel) 
Nucor 
ABB 
Clients trust you to install their electrical, fire, security, and telecommunication systems. You might install wiring and equipment, servicing machinery as needed. Often, you make modifications and additions and maintain these systems. 
Firearms and Ammunition
Arkansas is pro-second amendment, and it shows. There are plenty of manufacturers that make firearms and ammunition, but various businesses sell and distribute it, as well. All of these areas require electricians to keep things running smoothly. 
Population Growth Statistics 
The newest census indicates that Arkansas has seen a 3.3 percent population growth within the past 10 years. Right now, more than three million people live here, and that means many industries and manufacturers flock to the state to have on-demand workers for factories. 
With all of these people moving to Arkansas, you could be in high demand as an electrician. If you work in residential areas, you can expect to install and repair plenty of electrical systems.  
However, you're not limited to working in houses. Arkansas is home to many industries, so you're sure to find work wherever you go. 
Here are a few of the major building projects in the works now: 
El Dorado is currently focused on new bridges in the area. It includes sidewalk, parking lots, water/sewer, and bridge/tunnel design. 
Fayetteville is currently building a mixed-use development and plans to renovate an educational facility. 
There's also a hotel going up in Jonesboro, which includes a 97-room hospitality development with four stories. Another 98-room motel is in the works, too. 
Conclusion
Do you wish to learn about textbook requirements or accurate costs for specific trade schools in the area? You might even want to plan your transportation needs by learning about the exact location of the school or if the credits transfer. You can determine all of that by filling out the form below to request more information to plan your career!