Trade Schools In Arizona - Work Towards Your Electrical License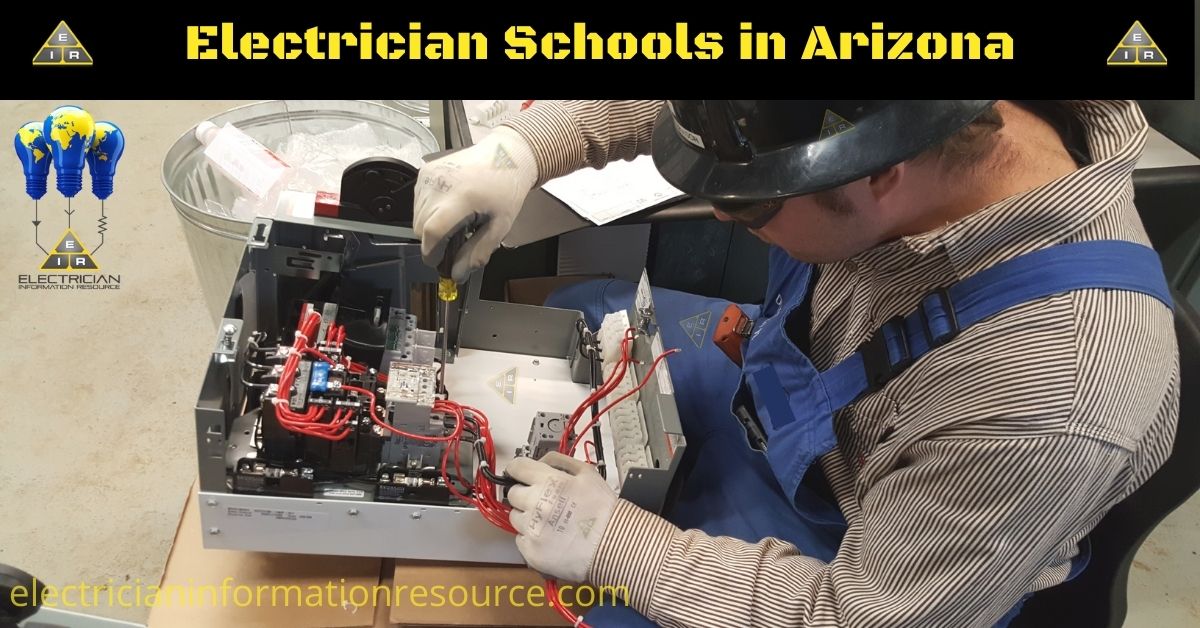 Arizona is home to the Grand Canyon and has a bustling economy centered around the five Cs - Cattle, Copper, Cotton, Climate, and Citrus. If you aspire to become an electrician in Arizona, you'll be happy to know that there are many opportunities for growth in the state. 
The very first step on your way to becoming an electrician is to attend an electrician school. When you complete our online form, you can connect with some of the most reputable trade schools in Arizona. 
Fill out the form below to find a trade school near you and fulfill your dream of becoming a qualified electrician in Arizona! 
Electrical Licenses in Arizona
Suppose you're considering a career as an electrician in Arizona. In that case, you must obtain a contractor license. 
Unlike most states, Arizona does not issue a journeyman license. It does, however, offer electrical contractor licenses. There are numerous types of electrical contractor licenses that you can obtain, based on the kind of work done.  
The licenses available in the state are: 
Commercial – lets you conduct wiring, installations, and repair to any electrical system in commercial and industrial buildings. It also permits you to work with underground systems with no more than 600 volts 
Residential – allows you to conduct installations and repairs in residential properties only 
Electrical – this type of license offers you the opportunity to work on both commercial and residential properties 
How to Become an Electrician in Arizona
There are six basic steps to becoming a licensed electrician in Arizona. We'll discuss them in the section below. 
1. Receive Training from One of the Electrician Trade Schools in Arizona 
To be eligible for a license, you must have at least 8,000 hours of on-the-job experience and 900 hours of training in a classroom setting. The first step is to find a reliable vocational school and complete an electrician apprenticeship in AZ. 
When you attend a trade school in Arizona, you'll learn the fundamentals to help you become a successful electrician. Moreover, an apprenticeship will help you use your knowledge in the real world under the watchful eye of a licensed electrician. 
2. Obtain Post-apprenticeship Experience 
After completing an apprenticeship, you may need additional experience if you want to specialize in a particular area. Here are a few examples of specialty fields that you will need additional experience in:  
Commercial applications  
Industrial electrical installation 
Photovoltaics  
Solar power 
Heating, ventilation, and air conditioning (HVAC) 
…and more!   
Although Arizona does not certify journeymen, you can obtain journeyman accreditation from a national organization.   
3. Apply for the Exams 
The Registrar of Contractors issues contractor licenses, and electricians have three choices, as we've mentioned before (commercial, residential, or electrical). There are two exams you will need to take before being issued a license. They are the trade and business management exam. 
4. Pass the Exams 
Next, you'll have to pass these two exams before applying for your license. There are 80 questions that you will have to answer on the business management exam, which must be answered in three hours.  
The trade test consists of 110 questions to be answered in four hours. A pass mark of 70 percent applies to both assessments. 
5. Get Your Electrician License 
After completing your assessments, you will have to pay a license fee to the Arizona Registrar of Contractors to obtain a license. The costs are as follows: 
Residential license - $720 
Commercial license - $580
Keep in mind that you will have to renew your electrician license every two years. 
6. Obtain Commercial Contractor Insurance
The final step is to obtain contractor insurance to ensure that you are covered if something goes wrong. Electricians in Arizona are required to have electrical contractors' insurance, which includes workers' compensation and liability insurance.  
Other options for additional protection include coverage for omissions and errors, which protects you against claims that could be made against you for negligence or that indicate that you did not offer a service as promised. 
How to Become a Lineman in AZ
Lineworkers build and maintain distribution and transmission facilities that power commercial, residential, and industrial buildings.  
If you have your heart set on becoming a lineman, you'll need to apply for a lineman apprenticeship in Arizona.
You will also need to enroll in a lineman program at a lineman school in Arizona, where you'll be equipped with the skills and knowledge you'll need to pursue a career as a lineman. 
Electrical Trade Schools Can Help You Achieve Your Dream of Becoming a Licensed Electrician! 
Vocational schools in Arizona give you the post-secondary education that you'll need to thrive in a hands-on working environment. You'll learn basic principles and how to work with electricity safely. This includes (but isn't limited to): 
Safety and health awareness 
Trade electrical theory 
Basic mathematics 
Blueprint sketching and interpretation 
How to use tools and equipment 
Motor control and distributed control 
National and state electrical codes 
Electrical systems 
Lighting controls  
Low voltage systems 
Project planning 
Thinwall and rigid conduit raceway systems 
Switchboards and panels 
Electrician schools in Arizona also offer a safe place where you can ask questions, grasp difficult concepts, and practice to hone your skills without fear of judgment. Moreover, having electrical skills and knowledge will make you an asset to the company that hires you. 
Why You Should Become a Qualified Electrician in Arizona
The truth is that The Copper State has many opportunities for electricians. From industrial to residential applications, there's no shortage of work, and with a growing population and booming industries, you can easily find an area to specialize in and enjoy a rewarding, fulfilling career.  
Here are some of the reasons why you can achieve your career goals and become a successful electrician in Arizona: 
Arizona Needs Skilled Electricians
According to David Jones, president of the Arizona construction industry, the thriving construction industry in Arizona lacks skilled workers, such as qualified electricians. Moreover, the US Bureau of Labor Statistics has projected job growth of up to nine percent for electricians from 2020 to 2030. 
The Office of Employment and Population Statistics has predicted that the number of electrical tradesmen in the state will increase by 45.2 percent over a 10-year period that ends in 2022.  
This growth surpasses the national rate by more than three times! The US Bureau of Labor Statistics indicated that Phoenix had the ninth-highest number of electrician jobs in the country in 2015. 
Because there is a growing demand for electricians in the state, you will have no trouble finding employment, and there are several technical colleges in Arizona that have popped up in response to this growing need for tradesmen, so you'll be spoiled for choice when choosing a vocational school.  
Opportunities in the Construction Industry
Arizona's construction industry is expanding rapidly. This is due in part to the fact that the state is widely regarded as having construction-friendly business practices.  
In fact, the Phoenix Business Journal noted that in 2015, contractors and builders in Arizona ranked first nationally for this type of business practice. Additionally, Forbes predicts that the state will lead the nation in terms of job growth for many years to come.
There is no doubt that The Grand Canyon State has become a landing strip for expanding businesses and shows no sign of slowing down. 
This is excellent news for aspiring electricians hoping to find a job in the construction industry! Unsurprisingly, electricians are in demand in building and construction, and electricians in Arizona get to work with leading construction companies! 
A Growing Population Means Even More Opportunities for Tradesmen
According to the US Census Bureau, Arizona ranked number four for population growth in the United States, with a 1.4 percent growth in the population from 2020 to 2022. This growth in population means more opportunities for electricians, particularly those who hold a residential license. 
However, it also indicates that more candidates will be applying for electrical apprenticeships, so you will need to choose from reputable vocational schools and dedicate your time and effort to the trade if you want to be successful! 
The Manufacturing Industry Is Booming
Another successful industry is manufacturing. The most common products made in the state are electronics and semiconductors. Currently, manufacturing accounts for 8.37 percent of the total output in Arizona, and it employs 5.93 percent of the workforce.  
Pursuing a career in manufacturing as an electrician is incredibly rewarding and offers lots of room for growth, opportunities to travel and work in companies around the world, great earning opportunities, and the assurance of consistent work and job opportunities since electricians in this field are always in demand.  
If you're hoping to work in a manufacturing plant, you'll need to pursue a commercial license. 
The Benefits of Becoming a Licensed Electrician in Arizona 
Here are some of the advantages of obtaining a license in Arizona: 
The state requires anyone who conducts electrical work to have an electrical license 
It also serves as proof that you have the knowledge and skill to take care of electrical jobs 
Obtaining a license will increase your earnings 
A license also gives you a competitive advantage when applying for jobs 
It will allow you to operate and advertise an electrical business, bid on government and public projects, and view building permits 
What You Can Expect to Earn as an Electrician in Arizona 
According to the US Bureau of Labor and Statistics, the average annual earnings for electricians in the state is $50,270, which increases as you gain experience in the industry. 
As an apprentice, you can expect to earn an average of $21.05 per hour with an average annual overtime earning of $6,250. 
There is undoubtedly potential to earn as an electrician!  
What Questions You Should Ask When Considering an Electrical Technician School
If you've decided that you want to become an electrician, well done on choosing a rewarding career! Now, it's time for you to go through our list of Arizona trade schools to find one that best suits your needs and preferences. 
We've drawn up a list of questions that you can ask to ensure that you are making an informed decision. Ask the schools the following questions when making an inquiry: 
What will the program cost? 
Do you offer financial support? 
Does the institution meet national and state standards? 
What textbooks will I need for the course? 
Will the institution offer apprenticeships? 
Where is the college situated? 
What is the course curriculum, and what can I expect to learn? 
Find Tech Schools in Arizona Today!
Becoming an electrical tradesman can be a rewarding career if you dedicate your time and effort to completing a course at a trade school and learning with on-the-job training during your apprenticeship.
To find a list of the best schools for electricians, complete the online form below!