Electrician Schools Los Angeles | Begin Your  Apprenticeship Today at a Reputable Academy!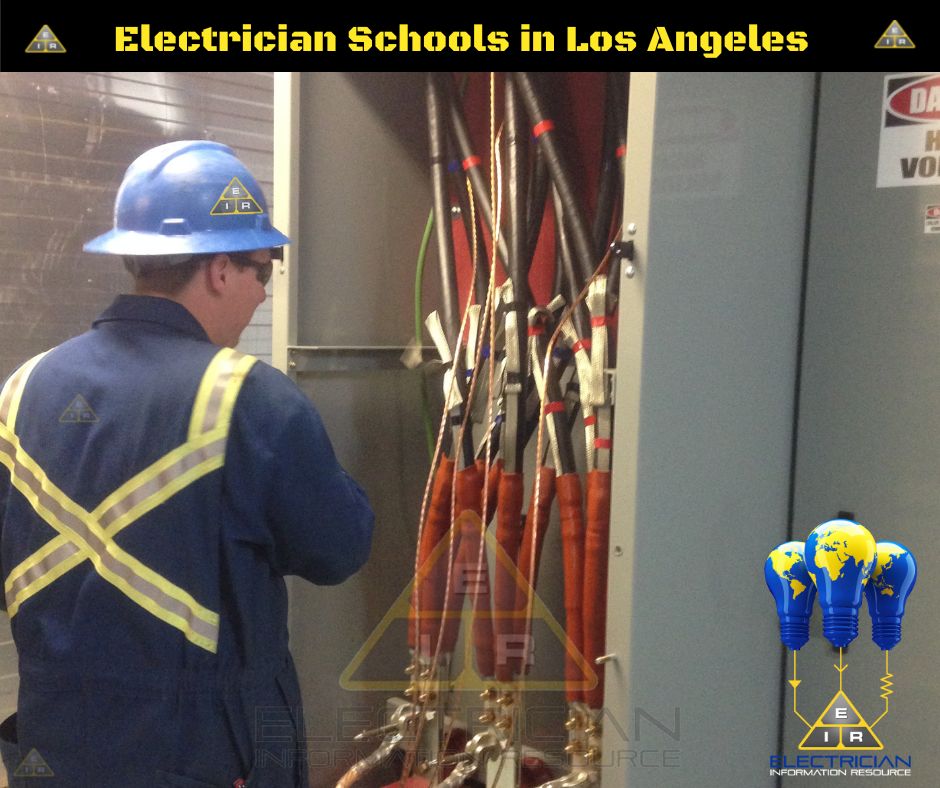 When you're looking for a job that pays well, your mind will likely go to law and medicine. While these are well-paying professions, they aren't the only lucrative career choices.  
If you're the kind of person who loves solving challenging problems and working with your hands, becoming an electrician may just be the right profession for you! 
The truth is that Los Angeles is full of opportunities for aspiring electricians, and to be successful in the field, you'll need proper training. Fortunately, there are several reputable electrician schools in Los Angeles to help you realize your dream of becoming an electrician. 
What Are the Requirements for Electricians in Los Angeles? 
To become a licensed electrician in Los Angeles, you will need to receive certification from the State of California Division of Industrial Relations. Before you may approach this regulatory body, you will need to have received 720 hours of training from a Los Angeles trade school. 
Thereafter, you must complete 8,000 hours of training under the supervision of a licensed electrician as a registered apprentice electrician or trainee before you can take the examination and become an electrician. 
Complete the form below to connect with an electrician trade school in Los Angeles today! 

Los Angles Is a Great Place to Pursue a Career as an Electrician 
The local economy in Southern California is vast, diverse, and in constant flux, creating a number of opportunities for budding electricians. There's also lots of room to specialize since there are so many prominent industries in this bustling county. 
Service Sector
The service sector plays a prominent role in the Los Angeles economy. Commerce and tourism are essential components of this industry, as are commercial and professional management services, finance, health care, and research.  
Moreover, other service sectors, such as government institutions, schools, colleges, hotels, retail, and restaurants, currently employ the majority of the workforce. This means that there are several opportunities in the service industry for electricians! 
Agriculture
Los Angeles was one of the most agriculturally productive counties in the United States by the mid-20th century. Although urban development has replaced a lot of the county's farmland and orchards, agriculture continues to play an essential part in the county's economy.  
You may not have realized this, but many agricultural activities rely on electrical systems. Storage facilities, for example, require electricity to function, so if this is a sector you're interested in, you'll find an abundance of opportunities. 
Entertainment Industry
The entertainment industry is another booming sector, and where there's entertainment, there's bound to be electrical systems!   
LA is the home of Hollywood, which produces more than half of all movies filmed in the US. It generates an average of $120 billion in revenue each year and employs over 161,000 people, creating jobs for electricians, so if you're hoping to become a part of the Hollywood crew, one way to do this is by working as an electrician! 
Manufacturing
While Los Angeles was once known for its oil and steel production, auto assembly, glassmaking, and more, it has evolved over the past decade or so to include newer manufacturing plants for other types of products. 
These factories use more electronics to automate the production process, reducing the need for human workers.  
This created even more jobs for electricians who are tasked with the responsibility of ensuring that these systems are working efficiently. 
Earning Potential 
Any career path that you choose needs to be profitable. If you're wondering whether becoming an electrician is a worthy pursuit, then you'll be happy to know that there's a lot of potential to earn as an electrician. 
The average electrician salary in Los Angeles is approximately $70,000 annually, and those who specialize in prominent industries can expect to make more. Moreover, as you gain experience and expertise in the industry, your potential earnings will increase. 
Population
Another factor that plays an important role in the growing need for electricians in LA is the population. The truth is that Los Angeles County is one of the most well-populated counties in the country, with over 9.8 million residents, according to a 2021 census.  
Moreover, since LA has an unemployment rate of just 4.9 percent, your chance of landing a job is quite high! A larger population also means that there will be greater demand for electricians, and if you're hoping to start your lineman apprenticeship, LA is the place to do it! 
New Projects 
Los Angeles is constantly evolving, which means that there are always new projects in the pipeline. The Metro Purple (D Line) extension, a subway project that is expected to be completed in full by 2027 in time for the 2028 Summer Olympics, is an example of an ongoing construction project requiring the help of dedicated electricians. 
With so many great opportunities for aspiring electricians in LA, you'll be spoiled for choice when choosing an area to specialize in and receiving formal training at a trade school to become a licensed electrician may just be one of the best decisions you ever make! 
How Can Technical Schools in Los Angeles Help You Achieve Your Goal?
Firstly, receiving formal training at one of the vocational schools in Los Angeles is an essential first step to becoming an electrician. Here are some of the reasons why aspiring electricians attend trade schools in Los Angeles: 
It Gives You Credibility 
Your electrical training from a technical school will help you feel confident when you land your first job as an apprentice. Moreover, your mentor and colleagues might take you more seriously if you prove that you already have a working knowledge of the fundamentals. 
Practice in a Forgiving Environment 
You might feel more at ease practicing essential skills in a classroom setting than in front of an employer. Educators typically give their students more leeway to make errors and learn from them. Furthermore, many vocational schools provide free tutoring if you require further assistance. 
Improve Your Chances of Landing Your First Job as an Apprentice
Because electrician apprenticeship positions attract a large number of applicants, you must be more competent than your competitors. Completing a brief electrical program at a technical school demonstrates your dedication to your education and commitment to your chosen career. 
The Duration of Electrician Programs in Los Angeles
One of the most asked questions is: "What is the duration of the program?" The truth is that every trade school is different, and the duration of your training program may vary. Typically, trainees spend approximately 8 to 24 months receiving pre-apprentice training. 
What You Will Learn at a Trade School 
You'll learn the fundamentals of the trade to help you thrive in a fast-paced, competitive industry. Here are some of the topics covered in electrical training programs in Los Angeles vocational schools: 
Fundamental electrical theory 
Blueprint interpretation 
Local, national, and state regulations 
Safety practices 
Power distribution 
Conduit and wiring protection 
How to use tools 
Electrical concepts 
Building codes 
Alarm systems 
Low- and high-voltage systems 
How to inspect and identify faults in electrical systems 
Wiring and grounding 
Electrical panels 
Load calculations 
Installation of lights, fans, and other devices 
Motors and generators 
What Are the Requirements for Attending Trade School?
To start your electrical training at a trade school in LA, you must have a high school diploma (or its equivalent). Some schools may also ask you to take a test before you are accepted. These requirements can vary depending on the institution and course you're interested in.  
If you'd like to find out what qualifications are required to enroll in an electrical program, you'll need to contact the relevant institution directly. 
Do You Have to Be Good at Math to Be an Electrician in Los Angeles?
While you don't need to be a math whizz to be electrician, you will have to understand some math and apply it on the job.
However, many people have found that, despite not being brilliant at math in high school, they are able to handle practicing basic math in the electrical trade. This is because applying mathematical principles to real-life circumstances makes them easier to understand.  
Furthermore, many electrical schools provide additional assistance from professors or peers, so you can always seek assistance if you encounter any concepts that are hard to grasp. 
Take the First Step Toward Becoming an Electrician in Los Angeles Today!
There's no doubt that becoming an electrician in Los Angeles can be rewarding. Thanks to a thriving service sector, entertainment industry, agriculture, and more, there are numerous opportunities to learn and grow on your journey to becoming an electrician. 
If you're interested in knowing more, we'll connect you to some of the best trade schools in LA. When you complete the online form below, you can find out: 
Where the school is located in Los Angeles 
What textbooks and course material you'll need to get started 
How much the program will cost 
The duration of the course 
What the entrance requirements are 
How to transfer from one trade school to another 
You can find a reputable technical school in LA today by completing the form below!