Looking to Thrive as an Electrician in America's Finest City? Discover What Trade Schools in San Diego Have to Offer!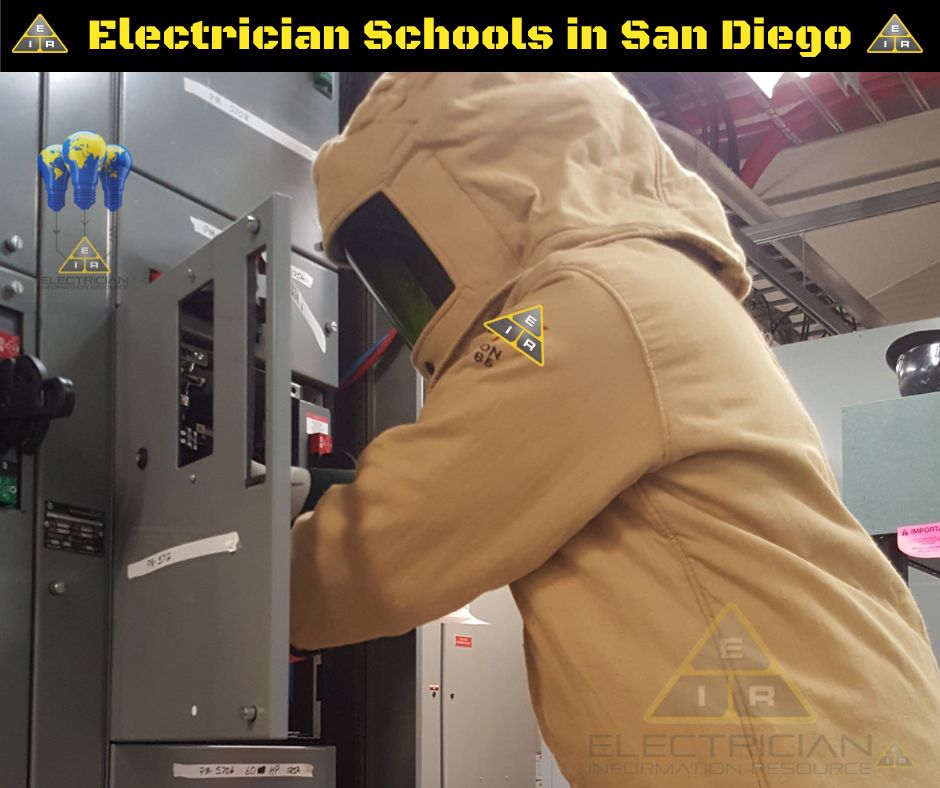 Electrical work is needed in pretty much every industry in San Diego. It may not seem like it, but the demand for new electricians is increasing every year in the country. Not only do you have a wide range of jobs to consider, but you also have several educational resources where you can learn.   
Many students decide to go to college, which tends to be a four-year program in most cases. While college is an excellent option, not many students have the time or money to go for these options. Here, trade schools in San Diego have proven to be an excellent alternative. 
Vocational schools in San Diego are perfect for anyone who may want to increase their chances as an aspiring electrician. An electrical training institute will provide students with the particular skill they need to perform in thriving areas (which we'll cover further on this page). 
As you can see, technical schools in San Diego are great options to consider, but what makes them special? You can read further on this page to know more information. On the other hand, you may fill out our contact form to get more information on San Diego trade schools tailored to your particular needs. 
How to Become an Electrician in San Diego
There are many steps to becoming a licensed electrician in San Diego. In the state of California, all of the licensing is approved by the State of California Division of Industrial Relations. If you want to get started as an electrician in the area, you must first seek a training program approved by the state's Electrician Certification Program. Thankfully, electrician schools in San Diego will cover everything you need without any problems. 
Generally speaking, you must first register as an electrician trainee. To qualify, you have two options: either work under the supervision of a certified electrician, or attend a state-approved school where you'll learn everything necessary to get started.  
In San Diego, you're required to complete at least 720 hours of classroom instruction in an approved San Diego electrical training center. On the other hand, you can complete an electrician apprenticeship and at least 8,000 hours of on-the-job experience. Keep in mind that you must provide proof of that work. 
Finally, you must take the state's certification exam. The exam may vary depending on the area you chose. Moreover, the exam requires you to understand everything about the program plus building code regulations for the state of California. You don't have to worry, though; a trade school in San Diego will provide you will all the knowledge necessary to move forward. 
The Great Debate | Is It Better to Become an Electrician or a Lineman? 
Regardless of what electrical trade schools in San Diego you attend, you may be wondering which option will suit your needs the best. While they may seem similar, linemen and electricians work in particularly different areas that you must be aware of. 
First, an electrician will mostly work in residential settings, although they also work in some commercial projects. Overall, electricians work in low-voltage systems, such as general HVAC maintenance, small electrical upgrades, and so on. 
On the other hand, linemen work on higher-stake jobs. While they can work in both residential and commercial settings too, they also work in industrial complexes, which increases the difficulty of these jobs a bit.  
Depending on the case, the salary for each worker will depend on the complexity of the job. Moreover, your San Diego electrical training may vary depending on whether you want to become an electrician or a lineman. Still, you can get all of the information you need by filling out our contact form. 
Should You Go to a San Diego Electrician School or College?
Typically, going to college would ensure a more "complete" studying journey due to all of the years you will be studying. However, that doesn't necessarily mean that someone who goes to a trade school will perform worse as an electrician than someone who went to college.  
Overall, trade schools could be a better option than colleges for some people due to a few factors. The first factor is pricing. Training programs in San Diego won't last the same as an entire college career, so you will, logically, spend less money. In that sense, since the training programs are shorter in trade schools, you will spend fewer resources in general. 
One of the benefits of trade schools is that you can pair it up with on-the-job experience. Under some circumstances, you'll be allowed to work under supervision while you study, which will make your learning experience even better at the end of the day. 
In the end, the decision is up to you, but considering how convenient trade schools can be, it may be worth checking out a bit more information. 
Reasons to Become an Electrician in San Diego | Where You Can Thrive
As mentioned at the beginning of this page, there are a few major industries where you can work as an electrician. If you're looking to make more money as an electrician or lineman, make sure to read the following list on some areas where you'll definitely succeed with your skills! 
Major Growing Industries in San Diego for Aspiring Electricians 
The economy of San Diego is split into these industries: 
Defense and Military 
International Trade 
Tourism 
Technology 
Life Sciences 
Real Estate 
Let's expand upon some of the areas where you could make more money as an electrician: 
Defense and Military
Overall, San Diego includes the only major shipbuilding and submarine yards on the west coast. Some national defense contractors, such as Cubic, NASSCO, and General Atomics, have headquarters in San Diego.   
Moreover, San Diego currently hosts the largest naval fleet worldwide. You may be thinking: What could an electrician do there? Well, military bases, including the US Navy facilities, require electrical work to keep the equipment working correctly. Considering all of the bases and operations there, you can expect to find high-paying work as an electrician there. 
Tourism
San Diego hosts some of the most entertaining tourist attractions in the US, including Balboa Park, the Belmont Amusement Park, the San Diego Zoo and Safari Park, and many others. Moreover, San Diego hosts huge events nationwide, including the Comic-Con.
Overall, San Diego has hosted millions of visitors over the years, and all of the attractions and events we just mentioned need electricity appliances to work correctly. If you're looking to get more work as an electrician, you'll be happy to know that there are several industries within the tourism department where you can show off your skills and make money. 
Life Sciences
San Diego has a lot of research facilities that are vital to the growth of the country, including the University of California, Scripps Research, and the Salk Institute for Biological Industries. These industries have helped the country and the world regarding medical device growth and biopharmaceutical research. 
All of these research facilities are powered up with state-of-the-art electrical equipment, which needs to be maintained regularly so that they perform as expected. Due to the fact that these institutions are so important, they can't afford to have machines that have electrical failures, so there's not going to be a shortage of demand for electricians anytime soon. 
Real Estate
Real estate has experienced significant growth in real estate prices. Currently, the demand for functional homes is huge, so you can expect to find work as an electrician there. The reason is simple: These residential properties work with electrical wiring systems. 
A failure in an electrical system can be a deal-breaker for a purchaser, so the real estate manager must ensure that their properties are in optimal condition, electrically speaking. In that sense, you're sure to find work as an electrician in regard to the real estate department. 
Technology
Finally, we have technology, which is probably the number one department for those aspiring to work as electricians. San Diego currently hosts some of the biggest producers of cellular technology, including LG Electronics, Qualcomm, Nokia, Cricket, and more. 
Every single one of these companies (and many other ones in this department) needs to have functioning electrical systems for them to perform as they must. According to the Center for American Entrepreneurship in 2017, San Diego was considered one of the top ten cities in technological development, meaning there's a gold mine of electrical work waiting for you there. 
Growth Statistics for San Diego 
The population here has seen an exponential increase over the past few decades. Overall, the U.S. economy is improving, which is increasing immigration to California, and therefore, its growth rate.  
Currently, the metro area population is 3,295,000, which supposes a 0.7% increase from last year. According to the United Nation Prospects, the population is expected to grow even more over the following years, which will, therefore, increase the demand for electricians in residential and commercial areas. 
Are There Any Major Building Projects for San Diego? 
San Diego currently has several different building projects for the future. Some of them include: 
Manchester Pacific Gateway 
Research and Development District 
Seaport Village 
Convention Center Rooftop Park 
Eastgate Mall
There are dozens of additional projects currently joining this list, so you can expect to find a lot of work as an electrician in this city. 
What's the Salary for an Electrician in San Diego? 
According to statistics, the average salary for an electrician in San Diego is $27.95 per hour, although it may vary depending on your particular electrician skill. A Journeyperson electrician, for example, may expect to earn a bit more than an electrical electrician. 
Start Your Electrician Training in San Diego Today!
As you can see, the market for electricians is big enough for everyone. If you start today by looking for the right trade schools in San Diego, you're likely to do a great job in this beautiful city's future projects. 
If you're interested in starting your journey today, make sure to fill out the form below for more information on required resources, costs, transportation and transfers, and other important factors.