Master Electrician Salary Texas: Training and Expected Salaries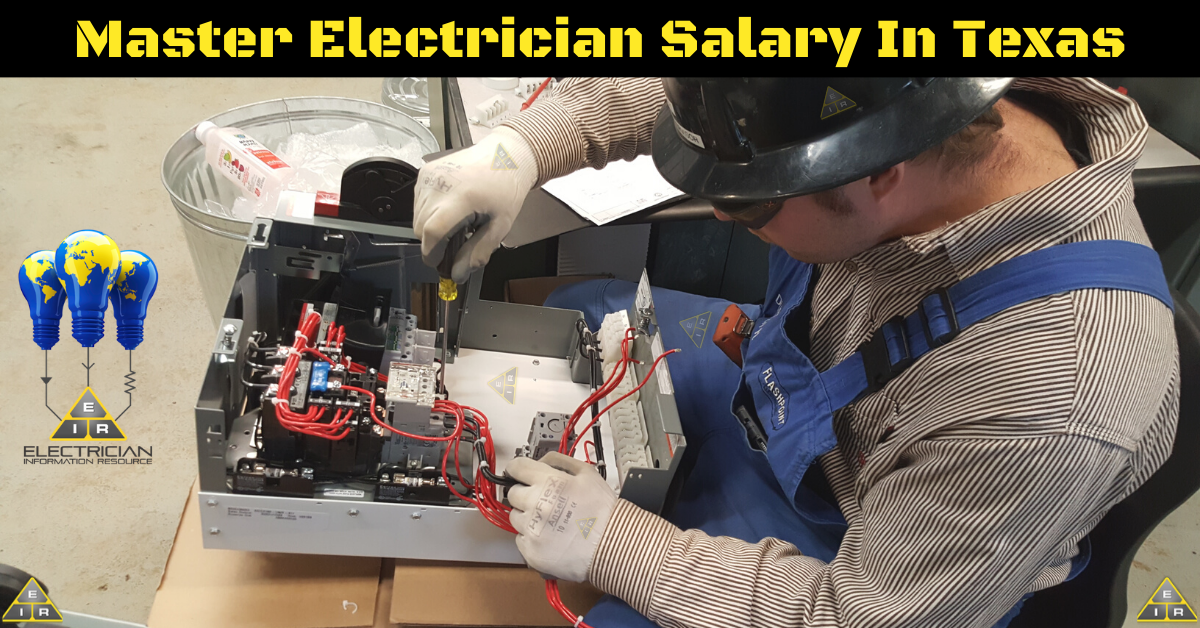 Hello Texans! Do you know that a master electrician salary Texas will vary from one city to the other? This is because of external factors such as the demand for your skills, experience and the industry you specialize in. Generally, you should expect your salary to be in the range of $49,000 – $70,000. 
Becoming a master electrician in Texas means that you are at the top of your game and only one step away from becoming an independent electrician. If you are yet to start your electrical training fill in your details in the submission form below, and we will connect you to the best electrician schools in your area.  
Unlike a master electrician, your average journeyman salary in Texas will be $51,430. This figure will vary depending on your city and the demand for your skills. 
Master Electrician and Training and Exam Requirements in Texas 
To become a master electrician, the following minimum requirements must be met:
Be in possession of a Journeyman license for at least 24 months 

Have a job experience of at least 12,000 hours 

Sit and pass a master electrician exam 

Applicants must complete a criminal history questionnaire if they have a past criminal conviction 
Master Electrician Exam
To sit for a master electrician exam, the applicant must send an application to the TDLR. The department will then evaluate the application to know if you meet the required criteria and then invite you to sit for an interview. The exam will be administered by PSI and will have two portions; a portion of the national electrical code and the second portion is a calculations portion. 
To pass the exam, a pass mark of 70% is required. If you fail one of the two portions, you will only retake the failed portion. Expect to be evaluated in the following subjects: 
Electrical Services 

Separately Derived Systems 

Branch circuits 

Electrical wiring methods 

Electrical control devices 

Master Electrician Salary Texas 
After you have been awarded your master electrician license expect to get extra bonuses and an increased wage. Your salary will significantly depend on your experience and the town you work in.  We have compared the salary wages of some cities in Texas to help you know which towns are more lucrative: 
A 
Abbott, Texas: $65,307 

Abilene, Texas: $64,706 

B 
Bailey, Texas: $60,314 

Bandera, Texas: $59,759 

Bangs, Texas: $58,603 

C 
Campbell, Texas: $61,928 

Canton, Texas: $51,414 

Carmine, Texas: $62,893 

E 
Electra, Texas: $61,317 

El Paso, Texas: $57,428 

El Campo, Texas: $61,997 

G 
Gregory, Texas: $62,099 

Greenville, Texas: $64,300 

Groves, Texas: $66,800 

K 
Karnes City, Texas: $64,990 

Kermit, Texas: $70,855 

Kerens, Texas: $63,158 
P 
Palacios, Texas: $66,907 

Paradise, Texas: $60,900 

W 
Willis, Texas: $63,880 

Wink, Texas: $69,800 

Wylie, Texas: $62,000 
It is clear that your earning potential is affected by your location. The same concept applies to all stages of your electrician career. To reap the benefits of your master electrician license make sure you work in a city that pays you more.