Texas Master Electrician Requirements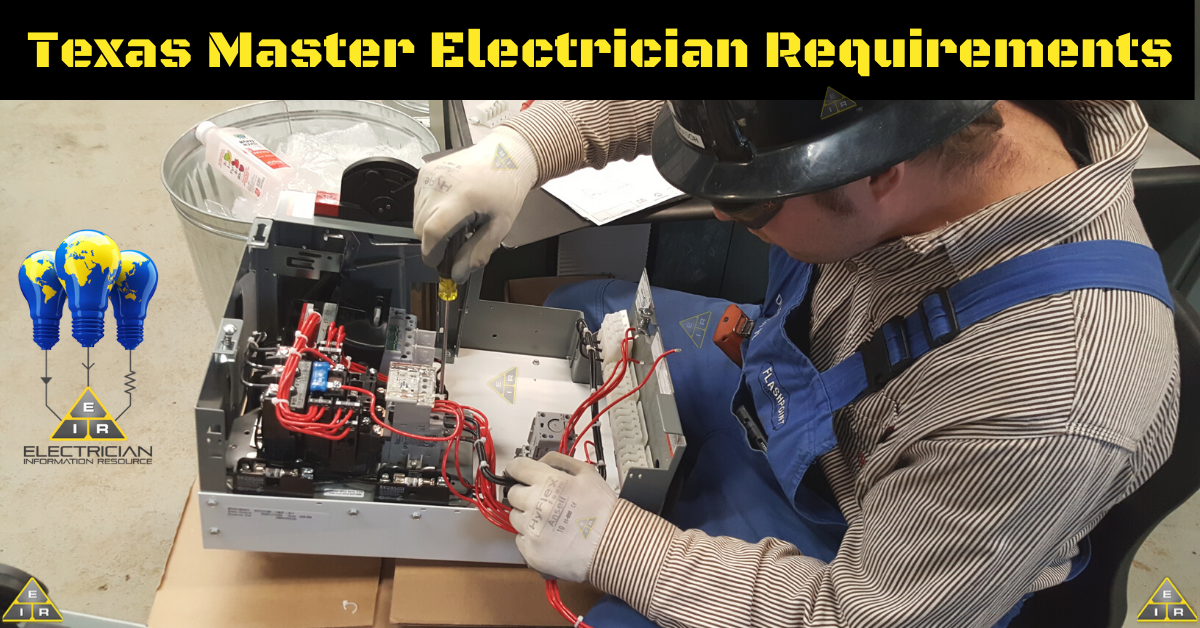 If you are looking for Texas Master Electrician Requirements, you have come to the right place. As a master electrician, not only will you be able to earn a decent wage of $68,600, but you will also get to bask in professional glory. You will get the professional respect that you deserve and this means that every opinion you make will be highly rated. 
Who is a Master Electrician? 
A master electrician is an individual who has met all the requirements required to become a journeyman and wants to further their careers. You will be able to supervise journeymen and perform all electrical work including those performed by a sign electrician.  

Duties and Responsibilities of a Texas Master Electrician  
To test and make electrical repairs on appliances or equipment 

To read electrical blueprints 

Ensuring the safety of workers 

Taking up the roles of a journeyman if called upon 

Responding to emergency calls 

To review and verify that preconstruction documents are in line with the National Electric code 
Master Electrician Salary in Texas
The average Texas master electrician salary is $68,600. This salary will vary depending on the demand, location and industry specialization.  

Texas Master Electrician Requirements 
The first step to becoming a master electrician is becoming a journeyman. You can read more on Journeyman electrical requirements to understand the steps involved. Once you graduate into a journeyman, you can then accumulate the required minimum experience to be allowed to sit for a masters exam. 
The following requirements are mandatory to become a master electrician:  
Have at least 12,000  hours of job experience 

Have no criminal record 

Have a general liability insurance coverage if you are planning to start your own business 

Be in possession of a Journeyman electrician license for at least 24 months 

Sit and pass a master electrician exam 
Texas Master Electrician Exam
One main master electrician training requirement is sitting and passing your exam. A master electrician exam has a 100 questions and you require to get a pass mark of at least 70%. The exam is administered by PSI at a total cost of $78.  
The following topics will be covered in the exam:
Electrical service 

Definitions and Calculation  

Electrical feeders 

Motors and Generators 

Special Occupancies 

Electrical Materials 

Electrical wiring methods 

Specially derived systems 
Continuing Education in Texas 
This is one of the requirements needed by the Texas Electrical Board if you are planning to renew your master electrician license. The department has a 4 hour approved continuing education that should be completed before you renew your license. 

Master Electrician Reciprocity Agreement 
A reciprocity agreement makes it possible for a master electrician to work in another state without requiring to start the process all over again. Currently, the state of Texas has a reciprocity agreement with the state of Louisiana. 
To know more about your local Texas master electrician requirements,  fill in the form below and we will connect you to the best electrician schools in Texas.