Which is the Right Electrician Course For You?
An electrician course begins with an apprenticeship. Electrical apprenticeships are post-secondary education combined with practical experience.
The best place to start your journey to becoming an electrician is to enroll in an apprenticeship program.
The school will not only teach you the theory portion of the apprenticeship program, they may be able to help you find an employer willing to take you on as an apprentice. Educational institutions have special connections with companies known to take on apprentices.
Employers hire apprentices, provide on-the-job training and work experience, plus pay wages while you train.

Most of an apprentice's time is spent on the job directly under the supervision of a certified journeyman or qualified tradesman. Even though your training begins with the school, only a small portion of the training actually takes place in the classroom.

Once an apprentice completes all of the required theory, puts in the required on the job working hours and has developed the required skills, he qualifies to write the final exam to become a certified journeyman.
Where to Take an Electrician Course
There are many technical schools, colleges and trade schools offering electrician courses. If none of these are within reach, you can take your classroom training online.
Many colleges now offer accredited training over the internet. So, taking a course online is just as valid as attending a physical location.
A graduate of an electrician apprenticeship program is a certified journeyman who will:

have a complete and thorough knowledge and understanding of electrical theory and its application to control equipment, lighting and power
be able to lay out and install a variety of 

electrical circuits

 in industrial, commercial, residential and institutional buildings and complexes
know how to implement the instructions given in blueprints and plans according to specifications involving electrical installations
be capable of maintaining electrical systems and equipment, as well as troubleshooting to quickly and accurately diagnose problems in order to find the fastest repair solution
be thoroughly familiar with the safety requirements for electrical installations
be able to competently use testing instruments and a variety of hand and power tools needed to perform tasks
be able to perform assigned tasks in accordance with quality and production standards as required by the Workplace Health and Safety industrial standards
have knowledge of the work of other tradesmen in the construction industry and with the different types of construction
Electricians are often exposed to many more hazards than any other people in the workforce and therefore need to be familiar with all Occupational Health and Safety Act rules, regulations and codes.
This is especially important for personal safety and the safety of others.
Preparing for an Apprenticeship
A trade school is another great way to get the electrical training you need to become an electrician. In a trade school you will learn everything you need to know to become certified. Some employers will still require you to apprentice for a few years, just to familiarize you with their own company requirements and to see how much you have already learned.
Having a complete electrician course under your belt will improve your chances of getting hired. Some employers don't have time or are not willing to take on an apprentice without any previous training. On the other hand, some companies specialize in training apprentices.
Even an online trade school can give you all of the electrical training you need to write your final exam. The main difference is that you will need a lot of self discipline. You will not have an instructor hanging over your shoulder making sure you complete your assignments. Of course, an instructor is just an email or phone call away, but you will mostly be working on your own.
Alternatives to an Electrician Course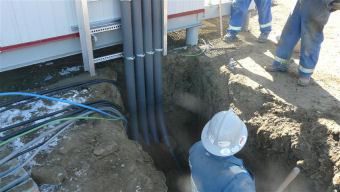 Trade schools can be costly, though. There is a third option to getting the training you need. You can work as an electrician's helper. As a helper you will get hands-on experience, plus a pay cheque. This experience will help you get accepted into an apprenticeship program.
The only real requirement for acceptance into an electrician apprenticeship program is a high school diploma or equivalent, but a little practical experience will put you at the top of the list. After all, an employer has many apprentices to choose from. The apprentice who shows the most potential and true desire to become a certified electrician will have the best chance of turning an apprenticeship into a full-time job.
Being an electrician is a very satisfying and rewarding career. Everyone uses electricity, so you are almost guaranteed a work for as long as you like. It is also a very dangerous job. You have to be alert and careful at all times.
Aside from learning all about electricity and the job requirements of being an electrician, an electrician course will also teach you how to do the job safely. By the time you complete your apprenticeship, performing your daily tasks in a safe manner will be second nature.