Electrician Hand Tools Buyer's Guide
Your budget for buying electrician hand tools is probably quite limited when you are just starting your career as an electrician's apprentice. Even so, tools are one area where it does not pay to cut costs.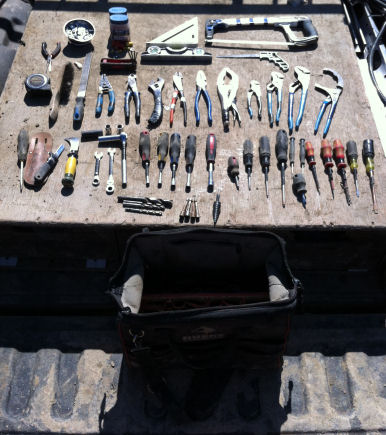 But if you have a bad habit of losing things, you may not want to buy top of the line.

Cheap electrician hand tools will wear out more quickly and are often much more difficult to use. You will quickly learn that something as simple as the comfortable rubber handle of a screwdriver will make a huge difference by the end of the day.
Your Tool Belt
The first item you may want to consider is an electrician tool pouch. There are many styles of belts available, aimed at specific trades.

For example, capenter's tools differ from an electrician's, therefore a belt designed for a carpenter won't have the same pockets and pouches. You need to be able to arrange your tools in a way that makes them easy to grab in a hurry.
The belt itself has some weight – usually about 7 pounds. As you add tools, this weight increases. Carrying this weight all day can really wear you out.
That is why more professionals are opting for tool vests. The weight of the vest and electrician hand tools is evenly distributed over your torso, putting less pressure on your back.
An electrician tool pouch holds all your tools in a handy, ready-to-use state. It is free-standing for easy access.
Safety and Convenience
Whether you choose a vest, pouch or a belt, you will need something with several pockets and holders. The holders, or loops are a convenient place for pliers, hammers and wrenches. The sheath is designed for screwdrivers and utility knives.
The best part about a vest is that you can add or remove extra pockets and loops. If you know you will only need a few screwdrivers, pliers and wire cutters, removing all of the other tools from your belt can be bothersome and time-consuming.
With a vest, you just un-clip the the loops and pockets holding the extra tools and you are good to go.

Care for Your Electrician Hand Tools
Since electrician hand tools are so expensive, you would be wise to take good care of them. If there is any chance at all that someone may snatch your tools when you aren't looking, lock them up.
As a first year apprentice, the cost of a high-quality, locking tool box might seem extravagant, but it will save you a lot of money in the long run. It is much cheaper than replacing your tools every week.
Basic Electrician Hand Tools
Your tool bag won't be complete without these simple, yet essential, electrician hand tools:

Pliers – Number One Electrician Tool
Pliers come in a vast array of styles and sizes. A well equipped electrician's tool set will contain several varieties.
Cutters
Screwdrivers and Tighteners
Since terminating wires and installing conduits will be a big part of your job, screwdrivers are essential. Again, you will need a good variety.

Some Other Essential Electrician Hand tools:

Meters and Testers
Working with electricity means you have to know where the current is flowing and if the repairs you made fixed the problem.

Drill Set

You will need a good power drill. A cordless drill is ideal. Drills with a saw attachment have become very popular, but a regular hack saw will work just as well.

Drill sets can include a large assortment of drill bits. Carrying all of this in your tool belt will be quite a hassle, so just take the bits you use most often and leave the rest in your tool box.
Most cordless drills come with two rechargeable batteries, although having a third battery can come in handy.
This drill and impact combo is the exact kit I used from 2nd year to journeyman.
With these tools, you will have a well-equipped tool belt. As you progress in your career you may require additional electrician hand tools, but with this list you will be well on your way.