Electrician Trade Schools in Houston | Everything You Need to Know & More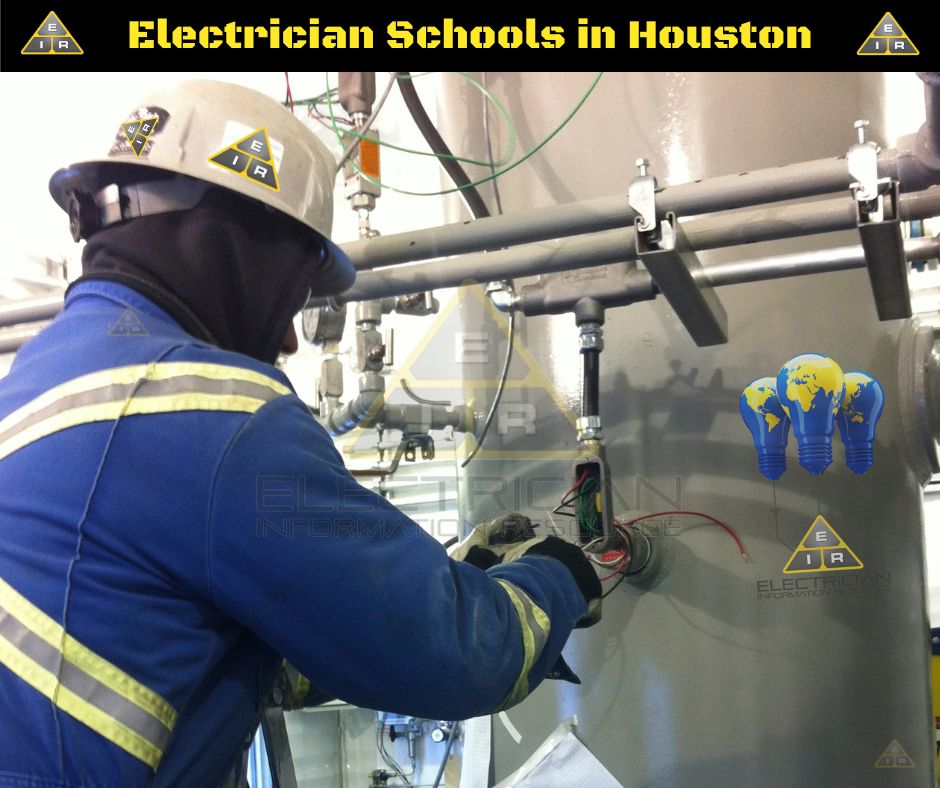 Are you an aspiring electrician? Many people dream of working as an electrician. 
They are ecstatic, so they are taken aback when they learn that becoming a professional takes time, four years to be exact. That's a long time. 
On the plus side, you don't need a license to work and earn money. You could join an electrician school in Houston, TX. Are you interested in this? Fill in the form below to start your journey today with an electrical school. Houston has many opportunities.  
Why Should You Go to Electrician Schools?
Electrical technology is a professional trade in high demand in Houston and throughout the US. Electricians are needed in the construction, residential, and industrial sectors for new installations and repairs. In the construction sector, there are opportunities to progress to roles such as project managers, estimators, supervisors, inspectors, superintendents, master electricians, and contractors. 
To prepare for a master electrician or journeyman license, Houston electrician schools offer diploma, certificate, and degree programs. In order to sit for the journeyman exam, the Texas Department of Licensing and Regulation (TDLR) requires a trainee to complete 8,000 hours of on-the-job training. You must have at least 12,000 hours of verifiable experience before applying for a master electrician license.
Electricians' employment is predicted to grow by eight percent by 2029, faster than the average for all professions, according to the US Bureau of Labor Statistics. Electricians will be needed to install and repair electronic gadgets and the wiring of commercial and residential structures as the population grows rapidly. Furthermore, electricians make an average annual income of $56,180. 
How Long Is Electrician Trade School?
Some programs last several months, while others can take up to a year and a half to complete. The courses' objectives may differ as well. Some specialize in household work, such as electrical system maintenance and installation. Others, on the other hand, can focus on the tasks in a commercial or industrial environment. 
Additionally, the length of the course depends on the topics covered in the classes. Most electrical trade schools in Houston, Texas, cover the following sections: 
Electrical theories 
Building codes 
Safety practices 
Power distributions 
Concepts in commercial and residential wiring 
High and low voltage electronic equipment 
Increasing electrical capacity 
Repair, calibration, and design of machinery 
How Much Does Electrical School in Houston Cost?
The price also depends on the specific course you take in electrician school. Houston has numerous schools to choose from. 
A community college is an excellent option to further your electrician training. Houston has programs ranging from $3,000 to $10,000. Technical or vocational school education can be more expensive, ranging from $5,000 to $15,000. Private schools can cost anywhere from $5,000 to $20,000. 
You need to make sure that the trade school is teaching you exactly what you need to know and is providing you with the certification or diploma you require. Furthermore, you should also ensure that you can transfer the credits if necessary. 
Another consideration is that you will be required to attend classes during your electrician apprenticeship. These classes can be held at a local union hall, community college, or an IEC/ABC building. 
How Much Is an Apprenticeship in Electrician Schools?
They can also differ from one location to the next, but they normally entail a yearly fee (from a couple hundred to a couple thousand, based on the course). Every apprentice should also purchase books for a class, which costs around a few hundred dollars per year. In the end, it is a fraction of the cost of a four-year college education. 
A Houston electrician apprenticeship is an excellent method to get experience and begin a career. 
Join the Best Electrical Trade Schools in Houston, Texas, Today!
Are you ready to take the next step in becoming a qualified electrician in Houston? It's time to get electrical training. Houston offers many options. Fill in your details on the form below to enroll in one of the best Houston electrician schools.