Power Lineman Electrician Job Description
A power lineman, also known as a powerline technician, is an electrician trained specifically in the area of construction and maintenance of electric power lines and distribution centers. Power linemen are often employed to install and maintain telegraph, cable TV, telephone and fiber optic lines outdoors. Workers who install and maintain indoor wiring systems are generally referred to simply as electricians.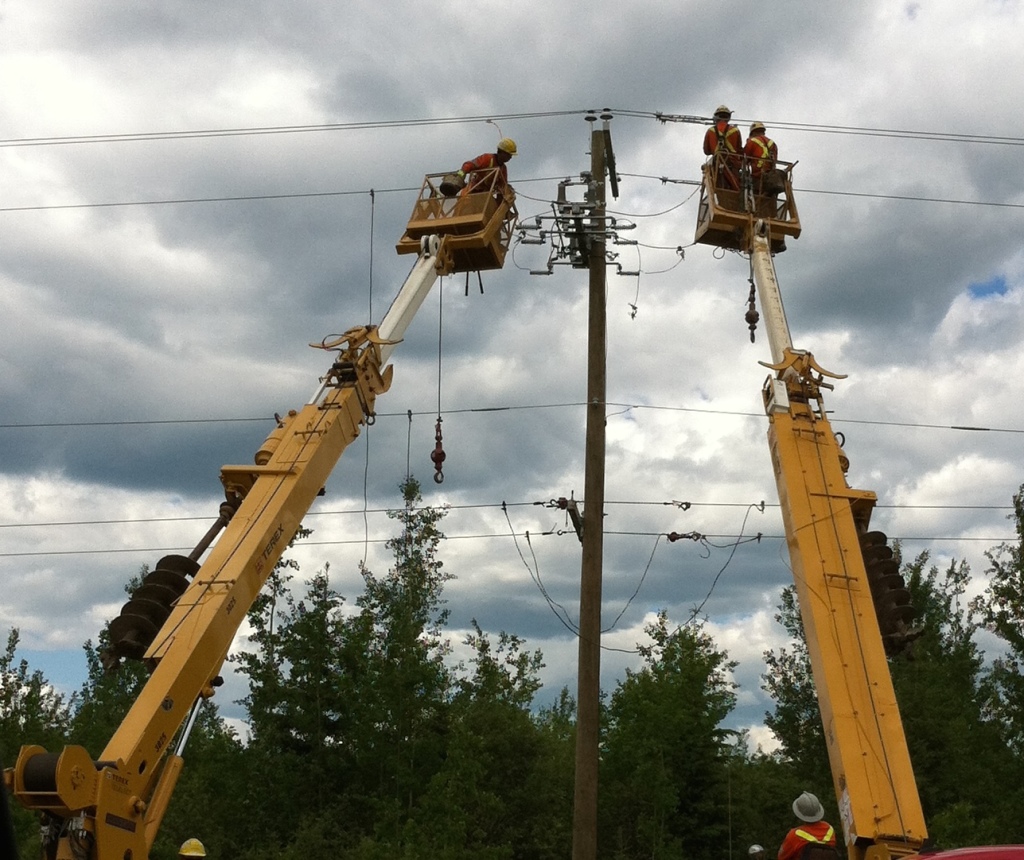 The specialized field of linemen began with the installation of widespread telegraph use during the 1840's. Originally, telegraph lines would be strung on trees along a straight path, but a lack of trees in the right location quickly made it necessary to erect wooden poles specifically for this purpose. People who set the poles in line and strung up the wire were soon referred to as "linemen." The name stuck and expanded to include telephone and electrical line workers overtime.
The widespread use of electricity made this job much more hazardous than work on telegraph or telephone lines because of the increase risk of electrocution. Before safety standards were implemented, nearly half of the linemen were killed on the job. Some of the deaths were due to falls or other accidents, but the majority were from electrical shock.
The Work of a Lineman
After completing an apprenticeship program that includes both practical and technical training, a power lineman is certified to work on live and dead power lines. The tasks of a lineman can include everything associated with power lines, such as installing or replacing distribution equipment, fuses, insulators, transformers and capacitors.
Working on high voltage transmission lines requires the proper safety setup. The lineman must be isolated from the ground. The worker is outfitted with special conductive clothing that is connected to the live power line. This puts the worker and the live wire at the same potential, which allows the lineman to safely handle the wire.
Electrocution can still occur if the lineman accidentally completes an electrical circuit which can happen if both ends of a broken conductor are handled at the same time. This type of work must often be performed by specially trained power linemen, suspended from a helicopter. Isolated line work is only necessary for voltages at transmission-level or high distribution voltages. Most work on live wires is done on distribution systems with a low voltage to reduce the risk of injury.

Large outdoor projects like tower construction or complex wire installations are generally not performed by power linemen alone. Usually, there is an entire crew, including a few linemen and several helpers. In many cases, the helpers are electrician apprentices. The helpers are allowed to perform many support tasks, but are not allowed to handle electricity or electrical circuits directly.
Telephone and cable TV lines are often strung on the same utility poles as electrical distribution circuits. These types of lines are placed below the electrical lines to reduce the risk of linemen accidentally coming in contact with the high-voltage lines during maintenance.

Protective Gear
All power linemen must wear personal protective equipment (PPE), but it is especially important for those working with live electrical apparatus to protect against accidental contact with a live feed. Some of the mandatory equipment includes helmets, rubber sleeves, rubber gloves, protective blankets and bucket liners.

Training to be a Power Lineman
Anyone wishing to be a power lineman must have a high school diploma or equivalent. The first step is to sign up for an apprenticeship program, or with a utility power company. A majority of the program involves working with an experienced lineman as a helper. The experienced lineman provides the practical training portion of the apprenticeship, and may be involved with the technical instruction, but that portion is usually handled by an accredited college or lineman trade school.
In most cases the student (apprentice) is required to pay for the coursework portion, but in special cases, the company providing the apprenticeship may pay for all or part of this training.
An apprenticeship program takes about three to five years to complete. Upon completion, the apprentice may be required to write a final certification exam, depending on local laws and regulations. Successfully passing this exam means the student is no longer an apprentice, but a certified power lineman.
Apprentice Lineman Wages
How much a power lineman apprentice earns varies greatly, depending on location and the company providing the training. Typically, the apprentice is paid between 55 and 85 percent of what the experienced certified lineman earns.
A first year apprentice will be closer to the 55 percent level, which will generally increase as the apprentice gains more knowledge and experience.