Pick Up Truck Tool Boxes - Electrician Truck Tool Box Setup

A pickup truck tool box, is a very important part of your equipment. As an electrician, you will usually be required to go to job sites. This means you have to take all of your tools with you, all of the time.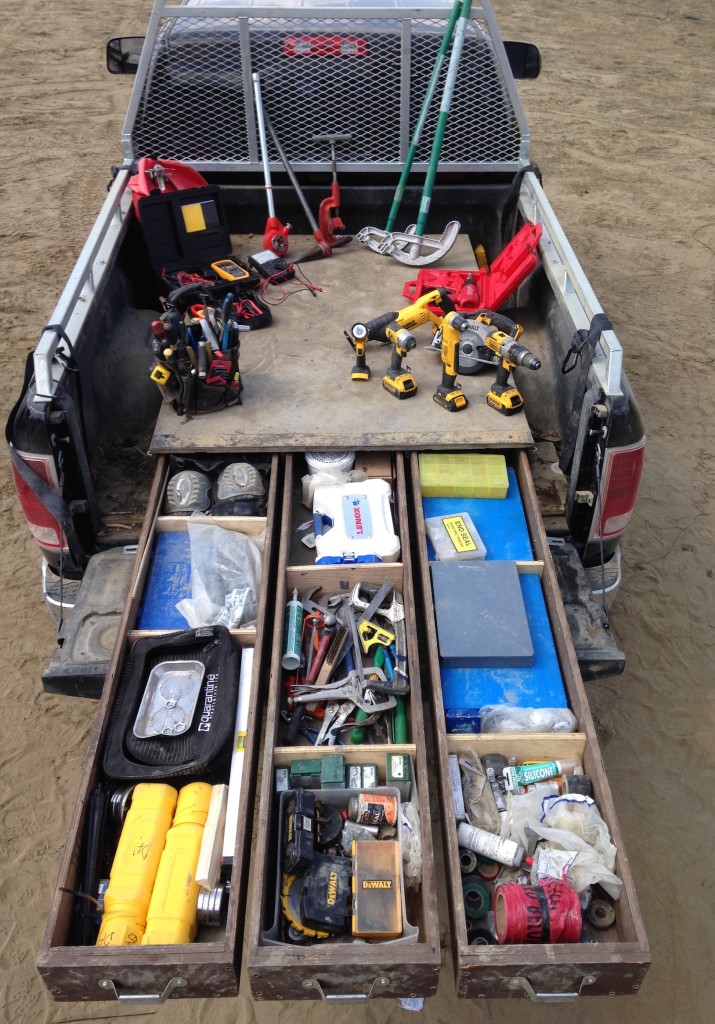 There are only so many tools you can carry in your electrician's tool pouch. The rest have to stay somewhere. You can't be running back to your shop or place of employment during a job. You have to stay on-site until the job is complete.
Not having the right tools makes you look very unprofessional. This is not the image your employer wants you to portray to the customer. If you are self-employed, remember that time is money. Coming to a job without the proper equipment can leave a very bad impression.
More About a Pickup Truck Toolbox
A pickup truck tool box sits snugly in the back of your truck. They are available in a variety of shapes and sizes. They also come in a variety of materials. The most durable is an aluminum model. Although many of the wood and hard plastic models stand up quite well, too.
You can choose a model with a cooler compartment. This is handy for keeping your lunch fresh and your drinks cold. Being out on the road all day can work up quite an appetite.
Having your lunch, drinks and snacks close by can be very convenient. And having your cooler inside your pickup truck tool box keeps everything neat and out of the way. This saves space in your cab too which can be necessary if you have a ride-along apprentice.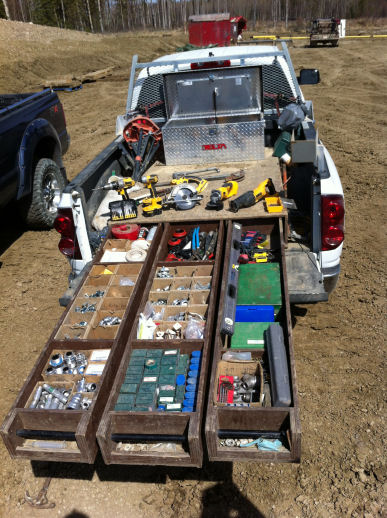 Even if you are the apprentice, there may be times when it is more convenient for you to drive to the job site yourself. In this case, having your own pickup tool box is not only handy, it may be required.

There is no better tool box for an electrician, or any tradesperson who works on location, than a pickup truck tool box.
Compare the Cost
Tools are expensive. Electrician's tools are amongst the most expensive tools around. You want to do everything possible to protect your tools and make them last as long as you possibly can.
Having your tools roll all over your truck bed will ruin your bed and your tools. It's also very unsafe. In poor weather, a tool box keeps your tools safe and dry. Most truck tool boxes also come with different compartments.

You can store smaller tools in the smaller compartments and the larger ones in the open space below. The drawers open from the side of your truck, so you have easy access to anything you need, without climbing in and out of your truck all the time.
When you have your tools neatly organized in a pickup truck tool box, finding what you need is quick and easy. A self-employed electrician gets paid by the job if it's a bided project and sometimes can receive an hourly rate for their work truck.
Wasting time searching for the tools you need on a job can cost you a lot of money and you look disorganized and unprofessional.
Electricity is very dangerous. One wrong move can cause you serious injury or death. When you get in the habit of keeping your tools well organized, you will naturally keep your workspace neat and orderly, too. This will prevent many potential hazards.
What Tools Does an Electrician Need?
The tools you need will vary from job to job. The bare essentials include:

Pliers in various sizes, including needle-nose, diagonal and tongue & groove pliers
Wire cutters
Wire strippers. Many pliers have wire cutting and stripping capabilities, but in many situations you will use separate tools for these functions
All types of screwdrivers, including a set of hex keys
A hammer, level and measuring tape
Conduit splicers or cutters
Tri-stand
Conduit pipe bender, reamer and threader
Solderer or small welder
Safety gear like a harness and lash for securing yourself and your ladder to a pole

A non-conductive ladder

Hack saw
Adjustable wrenches
Circuit testers and volt meters
Heavy duty cable cutters
Utility knives
Protective clothing. An electrician often has to work outside. You should be prepared for all types of weather

Power Tools and Attachments 
Cordless power drill, drill bits and taps
The angle power drill is an excellent tool for getting into tight areas
Cordless sawzall and skill saw
Cordless power impact gun
Portable battery powered light
The stereo is great for rocking out at work, when allowed of course.
Aside from your tools, you also need to carry a variety of other equipment such as nuts, bolts, wire, conduit and anything else you may need to complete the task at hand.
As an apprentice, your master electrician or employer will tell you what tools you need to start with. Over time you can buy more as you need them.
High quality electrician tools are quite expensive, but most of them are guaranteed to last, so they are worth the money. But, you do need to take care of them. A good pickup truck tool box is the perfect solution.