How to Obtain Electrician Certification
Individuals interested in becoming electricians must complete an electrician certification program.

This involves a combination of coursework, and several years working as an apprentice.
After successfully completing all of the required coursework and being steadily employed as an apprentice, you may qualify to write and pass the final exam and then obtain your certification.
Certification programs are usually created, sponsored, or affiliated with professional associations or trade organizations interested in setting standards.
These standards are designed to keep individual electricians safe, and the general public safe, as well as protecting the profession's reputation.

Professional Certification: A Mark of Quality
One of the most common types of certification in today's society is a professional certification. This shows that a person is trained to the required level, and tested as being able to complete a job or task.
In almost every trade and profession, a final examination is required before certification is awarded.
There are two general types of professional certifications. A certification may be valid for your entire life after passing the exam, while others are granted for a set number of years. After this time period, additional training or another exam may be required to renew the certification.
Different certifications are usually available within a profession, dictated by the level of expertise, experience, or specific areas of study of the individual.
Certification is not necessarily the legal right to practice your trade. It is more like the professional right. The legal right to practice is referred to as licensure. A licensure is normally issued by a government agency, whereas a certification is issued by the training institution or other authorized organizations.
License and certification are quite similar, as they both require an individual to demonstrate a certain level of knowledge or ability.
Certification programs have grown to include just about every trade and occupation. This is a direct reflection of the changing employment market. Many certifications are portable from one jurisdiction to another, since they are more dependent upon the person's qualifications than a particular company's definition of the job.
An electrician certification shows that you have obtained the professional knowledge and experience required to perform the job accurately and safely. Certification provides an impartial, third-party endorsement of your professional knowledge and experience.
Most certification programs require several years of apprenticeship training before a student is eligible to write the final licensing exam. Many programs offer specialized training for manufacturing and heavy equipment.
Licensing and Continuing Education
Most States and Provinces require an electrician to be licensed. Electrician applicants may be licensed as a journeyman after successfully completing an apprenticeship program, or by obtaining a minimum of four years of practical experience. They must then pass a written exam to be certified. A certified electrician may then work unsupervised.
With additional experience working as an electrician, or by earning a bachelor's degree in electrical engineering, a journeyman electrician may qualify to become a licensed master electrician. In order to work as a contractor, this certification may be required.
Obtaining a bachelor's degree in electrical engineering generally includes coursework in linear and analog circuits, advanced calculus, and electrical control systems.
Specific focus in areas such as electro-mechanical systems, alternative energy, electromagnetics, and signal processing may be offered by some programs.
Electrician certification qualifies you to work in several different fields, such as:
Industrial, Commercial and Institutional – work in the ICI sector is referred to as a construction and maintenance electrician.
Low Rise Residential – electricians in this field are restricted to residential electrical work, excluding residential buildings more than four stories high.
Lineworkers – electricians with this certification are qualified to work in high voltage and utility settings.
Aside from these occupations, an electrician certification offers a wide variety of advancement opportunities. With continuing education and additional training, you can qualify to become.
A foreman
A project manager
An estimator
An electrical contractor
An electrical engineer
An electrical technician or technologist
A safety inspector
An instructor
Basic Electrician Training
Students begin electrician certification programs by learning job safety, the correct use of required tools and equipment, electrical hazards and first aid. Students are taught to choose the proper insulators and conductors, how to read meters and how to set up rigging. Some students may also study industrial and commercial wiring techniques.
Working towards your electrician certification requires you to be a well qualified in several areas. Training includes: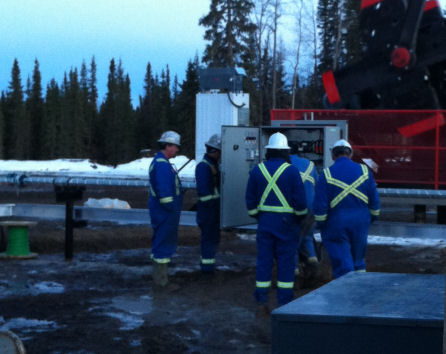 Installing and maintaining electrical wiring systems and various equipment related to these systems in residential buildings, commercial structures and industrial buildings.
Planning, executing and completing wiring systems in accordance with applicable codes, regulations, statutes, blueprints, specifications and any other governmental requirements or jurisdictional regulations.
Installing, testing and powering load centers, panel boards, distribution boards, sub-stations, switchboards, transformers, switchgear and any other related protective devices necessary to ensure the safety and integrity of wiring systems.
Installing, testing and energizing various other electrical systems and components.
This training is reinforced and thoroughly explained through coursework. Coursework is generally completed during your apprenticeship years.

You are required to put in from 1,000 to 1,500 hours of hands-on training per year under the supervision of a certified electrician. During this time, you must also squeeze in about 144 hours of coursework. Apprenticeship training generally takes three to five years.
Once you have successfully completed all of the required coursework, according to your instructor and satisfactorily completed your apprenticeship, according to the master electrician you are training under, you are eligible to write the final electrician certification exam to become a fully licensed electrician.