Electrician Trade Schools in Texas | Cost and Salary Outlook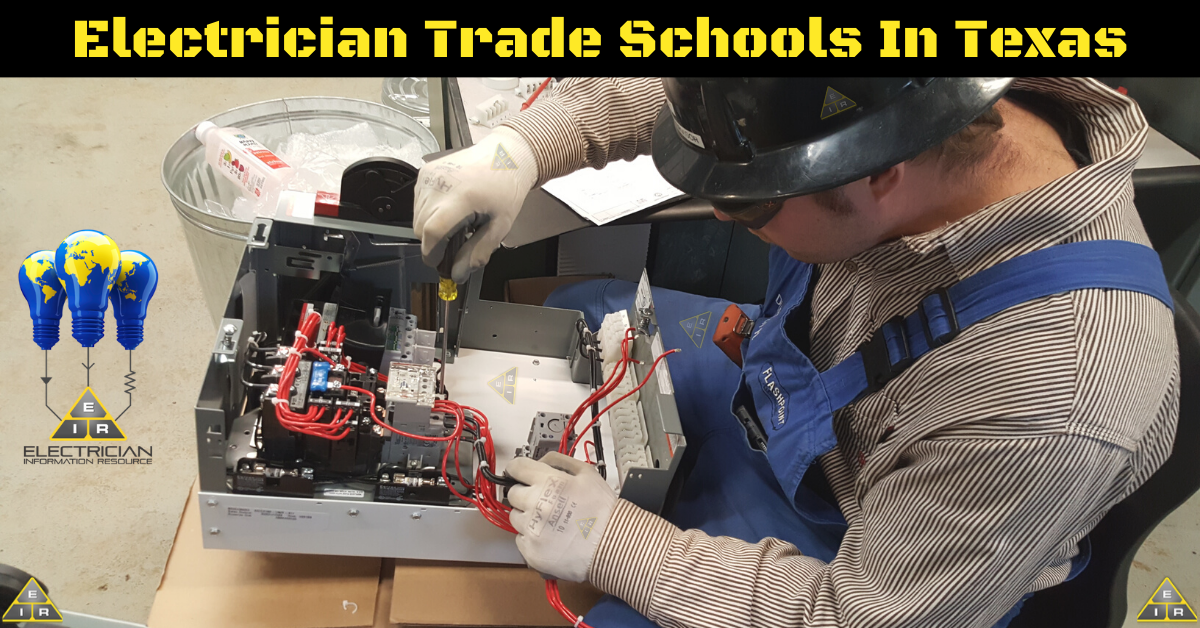 Are you looking for electrician trade schools in Texas but do not know where to start? Are you looking for an electrician school that will train your child to become a hard-working American with lots of disposable income? If yes, this article was written just for you. 
Enrolling for an electrician trade school is a faster way of joining the job market as an apprentice. You should expect to earn a starting salary of $16.8. As you advance your career, expect to earn a salary of $104,670 or higher if you get a lucrative tender. To get connected to the best electrician trade schools in your local area fill the form below and we will get in touch. 
What Is a Trade School?
A trade school is a post-secondary institution designed to offer practical skills to the student so they can have the technical capacity to become electricians. Unlike a four-year college course that will reward the student with a bachelor's degree, a trade school will award the student with a certificate or a diploma.  The first step to electrician training in Texas is becoming a Journeyman, a master electrician and then an independent contractor.

What to Expect from Electrician Trade Schools in Texas
You should expect a more hands-on approach when you enrol for a trade school. The fact that this is a hands-on learning experience means, that the learning time has been reduced from the standard 2 years to less than 12 months. 
The following subjects will be taught in a trade school: 
Building codes 

Power distribution 

Safety Practices 

Low and high voltage electronic equipment 

Concepts in both residential and commercial wiring 

Calibration, repair and design of Machinery 

Increasing electrical capacity
All electrician trade schools are required to teach on the National Electrical Code. The National Electrical Code is an important guideline designed by the National Fire Protection Agency. It is mandatory for all electrical students irrespective of the state in which they are in.  
Cost of Electrician Training in Texas 
The cost of electrician training in Texas varies depending on several factors such as the type of institution you enroll in, the level of education and the cost of equipment required throughout the training period. Generally, the cost of the training is around $20,000. 

Job Outlook and the Average Annual Salary in Texas 
The question we need to ask ourselves is whether it is worth it to pay $20,000 a year to enroll in an electrical trade school. The answer is yes! According to the Bureau of Labor Statistics, electrician demand is projected to grow by 17% until the year 2026. The following are average annual salaries for electricians in Texas: 
Electrical Engineers: $104,690 

Electrical Power line Installers and Repairers: $55,580 

Electrical Powerhouse and Substation Repairers: $64,050 

Electrical power tool repairers: $41,750 
To enrol in one of the best electrician trade schools in Texas, fill in your details in the form below and we will be happy to connect you to the best electrician schools in your local area.  

Thinking About Becoming An Electrician?