Electrical Tool Kit List: What You'll Need, and What You Won't
Assembling an electrical tool kit with the proper tools is your responsibility.

Becoming an electrician means learning a trade that specializes in fixing or installing stationary machinery, electrical wiring in buildings, and many other types of apparatus.

What to Carry in a New Electrical Tool Kit is Important!
With the new electrical components, maintenance and repairs these days, making sure you have the right tools in your kit is the essential.

The electrician designs, installs and maintains electrical systems. Many first time rookie electricians feel that they need to buy top of the line tools, but as long as your tools are sturdy and in good working condition you don't have to spend a fortune. It is recommended to start with a basic electrical tool kit set up.

An apprentice still has a long way to go before becoming a certified electrician, but still needs the right tools without having to buy the extras he will eventually need down the road. Whether you work as a residential, commercial or industrial electrician, your apprenticeship will usually be for four years, combined with classroom and on-the-job training.

Perfect Electrical Tool Kit For New Electricians
Someone once said "It's always recommended that you treat your new electrical tool kit like a woman would treat her purse. Always know where it is and treasure its contents even when lending something." Apprentices, as well as some professionals can leave tools behind, and if they move from location to location, never get their tools back.
Your tool belt and pouch will keep the tools organized, easy to find, and enable you to reach the tool that you need. You should have another pouch on your belt that is for holding screws and other small parts. Try to have one with at least three pockets.

Electrician Tasks
Machinery is becoming more complex and employers are searching for professionals trained in working with these complexities.

This raises the requirements for an electrical tool kit. You must be able to:

Install, test, assemble or maintain electrical equipment, wiring, appliances and fixtures using power and hand tools.
Diagnose malfunctioning machinery, systems and components, find the cause and correct it with hand tools and test equipment.
Be able to correct circuit breaker wires or transformers.
Do inspections of equipment, components and other electrical systems to find hazards and defects in compliance with all codes. Advise management about the safety of their equipment.
Be able to plan layout as well as installation of all electrical wiring, fixtures and equipment based on the job specifications and codes.Train or direct workers to maintain, install or do repairs on equipment, wiring and fixtures.
Follow blueprints or prepare sketches that determine where the wiring and equipment is located to insure safety and building rules are being observed.
Be able to use the varietiy of tools in their electrician tool kit, such as measuring devices, power construction equipment, and testing equipment.
Install a ground lead and connect motor power cables.
Have business management duties knowledge for preparing reports, maintaining records and equipment supplies.
Know how to repair wiring, equipment and fixtures with power and hand tools.
Work from scaffolds, roofs and ladders to repair, install, or maintain.
Place piping or tubing inside partitions or walls and place wires or cables in complete circuits between boxes.
Fabricate or construct parts to specifications using hand tools.
Attach small plastic or metal boxes to the wall for home electrical outlets or switches.
Be able to do physically demanding jobs such as trench digging to lay conduit wires as well as lifting and moving heavy objects. Safety on the job is critical and even simple ladder safety needs your attention.
Provide assistance in emergencies by knowing how to operate generators and floodlights.
Maintain an up-to-date electrician's license or ID card that meets government regulations.
Industries that rely on a domestic demand such as metal product manufacturing, high technology, transportation, electrical equipment and food as well as component and appliance manufacturing have many job opportunities.
By specializing in as many different areas as you can, you will have more options to move through the different fields and land the career you want.
As the needs of businesses that hire electricians change, so does the job growth in each market. When becoming an apprentice electrician, do some research that will head you in the right direction as you begin your training toward becoming a certified electrician.
Now, grab your electrical tool kit and be the best electrician you can be.
First Thing Is Choosing The Right Electrical Tool Kit
As mentioned above you don't necessarily need to buy the highest quality or most expensive hand tools. For a tool kit I would suggest investing in the higher quality brands. It is easy to lose small hand tools but its pretty difficult to lose an entire tool pouch.
Here are my top three favourite tool kits to use in the field and, why I consider them as the best.

1. Veto Pro Pac – This one is probably the ultimate tool bag for electricians. I've seen this pouch fall from 40 feet and it sustained no damage!

Very durable.
Almost 100% weatherproof, keeping your tools free of rust!
Heavy duty zippers to keep tools protected from dirt/debris and to prevent them from falling out if it was tipped over.
Lots of storage slots so your tools are organized and easily visible. This is especially good when you are under pressure on the job and need specific tools to get a viable piece of machinery up and running.
Excellent warranty on this tool kit.
2. Klein Tool Belt, this belt is very comfortable to wear. Even when it is loaded with tools it does not become cumbersome around your waist.

This is a great setup when you are required to climb up and down ladders and scaffolding. Most of all, it is safe to use while climbing.
Can hold pretty much the same amount of tools as a full carry-around tool kit.
Quick and easy access to tools.
For more even weight distribution there are built-in attachment points for suspenders.
3. Occidental Leather Pouch, this pouch is made with the highest quality leather.

Long-lasting.
Resilient to abuse.
Nice open set up to easily grab the required tool.
Sturdy/reinforced bottom, sits very flat so it doesn't tip over.
Shoulder strap loops for added carrying comfort.
Recommended for a maintenance electrician.
The tool kits listed above are by no means the only high quality brands. I've listed them because I personally have used them or know people in the field who have. If there are other brands of tool kits you have used and prefer, and would like to share why they worked best, please feel free to contact me.

Now It's Time To Fill That Electrical Tool Kit
The most basic tools that you will need in your electrical tool kit are:

---
You May Want to Check Out These Related Electrician Tool Articles
Tests current, voltages 
and many other electrical applications.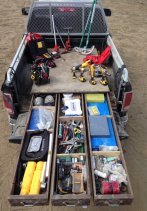 Meant for a journeyman running a
tooled up truck.

---
Ask An Electrician
Do you want to know more about this electrical topic? Whether it's going over what Electrician Tools you need or discussing the importance of Electrician Safety  write to me for free Electrician Advice and I'll answer! To return to the Electrician Information Resource homepage, click here.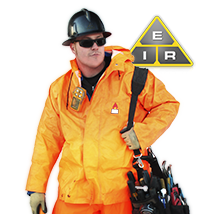 Return from Electrical Tool Kit to the Electricians Tools Menu